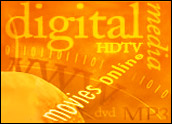 Communications giantBT Group on Monday announced the commercial launch of BT Vision, its new Internet Protocol Television (IPTV) service.
The company is spending about US$198 million to roll out the service with high hopes to attract up to 3 million users and post a profit by the end of 2010.
"BT Vision is all about giving control to the viewer — control over what they watch, when they watch it and how they pay for it. We believe that broadband can transform television and take it into a new era," said BT Retail Chief Executive Ian Livingston.
User-Generated IPTV Content
BT Vision combines more than 40 digital terrestrial television (DTT)-based Freeview channels with digital-recording capability and a library of video-on-demand content delivered over broadband. The service aims to give viewers greater choice without the need to commit to a monthly TV subscription.
Starting in 2007, the service will use broadband to deliver more special interest programming. There will be new interactive services based around audience participation, voting, gaming, gambling and communications designed to enable customers to chat with each other or use video telephony to talk face to face while watching programs.
In a move to incorporate a social networking aspect to its IPTV services, BT Vision will also provide a platform for user-generated content so customers can share their videos, photos and music with a wider audience.
The Microsoft Play
BT Vision is delivered through a new set-top box, dubbed the "V-box," which contains a personal video recorder (PVR) that stores up to 80 hours of content and is able to pause or rewind live TV, as well as record programs. The box is high-definition ready. BT Vision also features a "Replay TV" service that allows viewers to catch up with some of the broadcast TV programs they may have missed during the previous week.
The telecom side of IPTV is only a portion of the profit play. Hardware and software vendors are also vying for a piece of this next-generation pie.
BT Vision opted for the Microsoft IPTV Edition software platform and a Philips set-top box to deliver its digital television service to BT Total Broadband customers. Microsoft TV IPTV Edition is a digital TV distribution and management solution. Using Microsoft's Connected Services Framework, a service aggregation and delivery platform for operators, BT will also be able to combine other services — such as voice, instant messaging or presence — with its TV offering.
The launch — the latest in a wave of European IPTV deployments based on the Microsoft TV software platform — heralds a new era of more compelling personal and connected TV experiences available to consumers, according to Microsoft.
The Barrier of Inertia
Despite the multimillion-dollar investment and the intense interest from Microsoft and other technology heavy-hitters, inertia is a key barrier to widespread consumer adoption of IPTV solutions, said Deloitte Consulting principal Kenneth A. August, Pacific Southwest practice leader of the technology, media and telecommunications group.
"Cable and satellite customers need a reason to change," August told TechNewsWorld. "These customers must perceive any change as being no less attractive than what they get today and must have better features — which may include price, interoperability, content, search and/or other unique applications — to cause a switch."
Currently, there is not enough "inertia" to get most consumers to make the switch. That could change, however, by 2010, when some analysts expect vendors to overcome technical and content barriers that are preventing IPTV from reaching the mainstream