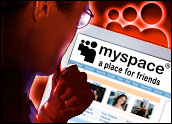 When Integrated Direct needed to drive registrations for one of its clients' New York City events, the company included popular social networking site MySpace.com in its online marketing initiatives.
"Online registrations doubled compared to previous years just by using MySpace and some other similar free sites," Chris Consorte, owner and operator of Integrated Direct, an interactive marketing agency, told TechNewsWorld.
Like Consorte, more companies are using online social networks to accelerate their sales, raise money, recruit star employees and find jobs. A recent Pew Internet study lends credibility to the concept. Pew researchers report that more people are using the Internet to strengthen social ties that they maintain in the offline world.
Increased travel costs and a depressed economy are two factors driving the trend. Time being money, online social networking is also winning favor with time-stretched business folk. It costs less and takes less time to network online than in person, said Scott Allen, co-author of "The Virtual Handshake: Opening Doors and Closing Deals Online."
"As more business happens online, it's natural that the business dealings that lead up to the transactions would happen more online. We have a generation coming into the workforce now that have grown up with broadband. IM and SMS messaging are actually preferred over the phone by many of them," Allen told TechNewsWorld.
Signing On and Linking In
Businesses are actively using professional networking site LinkedIn to connect with consultants and recruit employees. Individuals use LinkedIn to query about companies, asking questions like, "Is it a good place to work?" or "Joe offered me a job — is Joe an upstanding guy?" or "I'm about to make a job offer to Sally — what can you tell me about her?"
Marty Fahncke, owner of management consulting firm FawnKey & Associates, frequently uses LinkedIn. Two years ago, Fahncke needed to find a copywriter for a project in a hurry. All the regular standbys were busy. A quick search of LinkedIn offered up a qualified copywriter with dozens of endorsements.
It also works the other way around. "I've been approached by potential clients, business partners, employers, and employees all as a result of my profile on LinkedIn," Fahncke told TechNewsWorld. "It's been a very valuable asset to my business."
Comparing Networks
MySpace, on the flipside, is a pop culture sort of social networking experience. Brand marketers use it to build buzz around their products. A search for clothing, for example, will pull up several hundred results, many from small independent clothing lines. Just having a page on the network, however, isnot enough, Allen said.
"They need to go engage in the appropriate discussion forums, write in their blog, post comments in others' profiles, and add friends. In a word, participate," Allen explained.
By contrast, Allen said LinkedIn is actually designed to minimize the amount of activity required in order to get benefit from the system. "Its organizing principle is that there is latent potential in all of our networks that is difficult to leverage due to lack of information," he noted.
Other online social networks, like InnerSell, GoBigNetwork and AlwaysOn-Network are "strictly business" as well, though some socializing certainly occurs as well. Ecademy and Ryze are targeted at business people, though they encourage more social interaction on a broad range of topics than does LinkedIn.
Mixing Business With Pleasure
The phenomenon of social networking for business purposes is a logical extension of personal networking. After all, businesses are merely people linked by common economic purpose, said Barry Kessel, managing director and chief client development officer at global marketing firm Wunderman.
Still, Kessel believes businesses have to tread cautiously into these areas. Blogs are overt — their purpose is well-defined. Permission isn't required. Social networks, on the other hand, rely on private contracts, written or unwritten, he said. The rules of LinkedIn are quite explicit. Companies haveto beware of intruding into these personal spaces.
"If companies overtly try to engage or influence people, their commercial propaganda will likely have a negative effect. Better to win individuals over and then let these networks do what they do best, which is transmit both positive and negative information," Kessel told TechNewsWorld. "Social networks can be tremendous breeding grounds for advocacy as well as loathing."
Willing to Listen
Marketing is based on an exchange of information between someone with something to say and someone willing to listen. Conversation and social networking is as old as humankind. These new tools merely create the ability for personal opinions to travel at lightning speed.
"Many opinions create a groundswell or a movement that can accelerate or hinder a product or business. But they belong to the individual. Better for marketers to focus on making great products and services and letting the social networks pick up on that," Kessel said. "I am not convinced these aretotally manageable media. And that's a good thing."
Failure to Communicate
For some IT pros, social networking may be tough to swallow, but that's understandable because online networks and virtual communities do not translate well into most of the business world — at least not yet, said Ed Barks, president of Barks Communication, a training firm.
Barks' firm targets executives at Fortune 1000 and Inc. 500 companies. Those decision makers, with a few exceptions, are not online on any regular basis, he speculated.
"Any attempt to cultivate online relationships with this segment of the business world would amount to spitting in the wind. Online networking may indeed grow over time, or it may continue to be simply a nice supplement for face time," Barks told TechNewsWorld. "For now, there is still nothing thattops the personal touch when it comes to business relationships."
Growing Trend
Nevertheless, there is no denying the trend. LinkedIn alone has 5 million users, 97 percent of whom joined based on an invitation from an existing member, revealed Konstantin Guericke, vice president of marketing for LinkedIn.
LinkedIn boasts members from all the Fortune 500 companies, he told TechNewsWorld. Overall, 600,000 of its members are chief executives or in executive management. The typical user has more than 10 years of work experience and has created a large set of professional relationships with current and former co-workers, business partners and investors and clients.
"It took LinkedIn three years to gain five million members. Given current growth trends, the company anticipates that the next five million members will join LinkedIn over the next ten months and bring LinkedIn's total membership to 10 million before the end of 2006," Guericke said.
Barriers to Adoption
Despite the obvious advantages and the growing networks, analysts said there are still some barriers to adoption. Some people simply don't trust virtual relationships, Allen said, and the label online "social" networking doesn't help sell the benefits to executives.
"The tools themselves may be easy to use, but making highly effective use of them takes a little bit of education and practice," Allen concluded. "I know how to use wire strippers, but my son the electrician makes better use of them than I ever will. I think education is the biggest piece missing from the online social networking puzzle for business."
With more consultants emerging to help companies with blogs, wikis and other new media trends, that education curve may be reasonably short — that is, until the next big thing comes along.