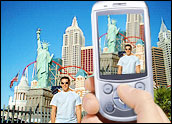 Will camera phones replace digital cameras for the average consumer? Not by a long shot, according to a new study from IDC. The study refutes what it refers to as a myth about the digital technologies and affirms the notion of peaceful co-existence between the two.
According to IDC's Mobile Imaging Survey, the myth is suspect at best, especially since resolutions in camera phones have remained somewhat constant and digital camera pricing has continued to decline.
Different Purposes
Michael Gartenberg, an analyst with Jupiter Research, told TechNewsWorld he agrees with IDC's assessment.
"Camera phones will not become digital cameras, nor will music-enabled phones displace iPods or MP3 players," he said. "These devices will be an addition to, not instead of."
Gartenberg said the issue is context. Consumers who are heading out for a night on the town may only want to take one digital device. The natural selection is the cell phone. If the consumer is inspired to take a snapshot of his friends, then the camera phone is better than the best digital camera that got left at home.
However, consumers who are going on vacation and want to capture memories of their special retreat will take a digital camera.
Gateway to Camera Sales
IDC concludes that the camera phone is more of a gateway product in the U.S., and creates rather than destroys digital camera users.
Indeed, over 30 percent of camera phone owners plan to purchase a digital camera because they were introduced to digital imaging through a camera phone.
But analysts said sales drivers of camera phones and digital cameras are as different as their uses. One driver goes back to context. The second driver is cash.
"The cell phone user, for the most part, isn't going to pay money for the camera feature. They are getting the camera as part of the phone and aren't paying extra for it," Gartenberg said. "A digital camera is something that you go out and buy because you want to take photographs."
Printing on the Decline
The printing of images captured on camera phones is also on the decline, the IDC survey reveals. Instead of one image being printed on average per month like in 2004, one image is being printed every three months in 2005.
"Home is still the dominant place to print, yet the anemic number of prints supports IDC's theory that end users have more reliable expectations regarding mobile imaging than vendors themselves," said Chris Chute, senior analyst, Worldwide Digital Imaging Solutions and Services.
Gartenberg suspects one reason for the decline in camera phone picture print outs is the low quality. Megapixel camera phones are just beginning to come to market that can print an image with reasonable quality. The other factor is how people use the images.
"Often consumers don't have an easy way to get the pictures off the camera. So they use them as wallpaper and screensavers instead of printing them," Gartenberg said. "It shows how consumers are changing the way they are interacting with digital technology. Consumers are realizing that there's many ways they can interact with their pictures other than just printing them out and pasting them into an album."
IDC's Mobile Imaging Survey also determined that the bulk of camera phone owner respondents are between the ages of 25 and 44. The top imaging activities are archiving images for the long-term and sharing through e-mail.