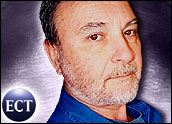 Major international music artists based in Canada have banded together to form a group aimed, among other things, at protesting the recording industry's practice of targeting fans with lawsuits.
With Barenaked Ladies, Avril Lavigne and Sarah McLachlan as members, the Canadian Music Creators Coalition stated in a White Paper Wednesday:
Suing Our Fans is Destructive and Hypocritical: Artists do not want to sue music fans. The labels have been suing our fans against our will, and laws enabling these suits cannot be justified in our names. We oppose any copyright reforms that would make it easier for record companies to do this. The government should repeal provisions of the Copyright Act that allow labels to unfairly punish fans who share music for non-commercial purposes with statutory damages of US$500 to $20,000 per song.
Digital Locks are Risky and Counterproductive: Artists do not support using digital locks to increase the labels' control over the distribution, use and enjoyment of music or laws that prohibit circumvention of such technological measures. The government should not blindly implement decade-old treaties designed to give control to major labels and take choices away from artists and consumers. Laws should protect artists and consumers, not restrictive technologies. Consumers should be able to transfer the music they buy to other formats under a right of fair use, without having to pay twice.
Cultural Policy Should Support Actual Canadian Artists: The vast majority of new Canadian music is not promoted by major labels, which focus mostly on foreign artists. The government should use other policy tools to support actual Canadian artists and a thriving musical and cultural scene. The government should make a long-term commitment to grow support mechanisms like the Canada Music Fund and FACTOR, invest in music training and education, create limited tax shelters for copyright royalties, protect artists from inequalities in bargaining power and make collecting societies more transparent."
The new group says until now, multinational record labels have done most of the talking about what Canadian artists need from copyright.
Protecting Artists
"But let's be clear," the CMCC said. "Major labels are looking out for their shareholders, not for Canadian artists. Recording industry lobbyists, despite claiming to represent artists, seldom speak for us. Legislative proposals, particularly those that would facilitate lawsuits against our fans or increase the labels' control over the enjoyment of music, are made not in our names, but on behalf of the shareholders of the labels' foreign parent companies."
Lavigne and her fellow artists do, however, make it clear they're not against record companies or music publishers per se.
"They're often run by people who love music and are passionate about the promotion of Canadian culture," says the coalition white paper, going on:
"However, representatives of the sound recording and music publishing industries are in an inherent conflict of interest. This conflict has led to fundamental problems in the way Canadian artists have been represented in the copyright reform process.
"Industry lobbyists claim that they represent our interests. In truth, these representatives are often beholden to the directors and corporate shareholders of a small number of multinational companies headquartered outside Canada. As part of the effort to maximize revenue, record labels typically seek to acquire, not protect, artists' copyrights."
Most of the campaigning on behalf of major record labels isn't about protecting artists or promoting Canadian culture, says the Canadian Music Creators Coalition: it's about propping up business models in the recording industry that are quickly becoming obsolete and unsustainable.
Business Models
It's also about, "preserving power structures and further entrenching the labels' role as industry gatekeepers," state the Canadian performers. "Lobbying efforts are focused on obtaining laws that restrict artists' ability to take control of their own music, reach their fans in more direct ways and earn a decent living from music without sacrificing their autonomy.
"Canadian artists are deeply concerned, not only about autonomy and financial security, but also about creating, preserving and spreading Canada's unique cultural heritage. Laws that help to cede control over the Canadian music industry to foreign labels do not address these concerns. It is the government's responsibility to protect Canadian artists from exploitation. This requires a firm commitment to programs that support Canadian music talent, and a fresh approach to the process and substance of copyright law reform."
---
Jon Newton
, a TechNewsWorld columnist, founded and runs
p2pnet.net
, based in Canada, a daily peer-to-peer and digital media news site focused on issues surrounding file sharing, the entertainment industry and distributed computing.
---