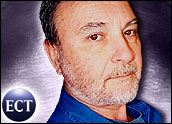 It's 2006 — a brand new year and the entertainment cartels are already crying doom and gloom. As usual, rather than acknowledging they're the authors of their own misfortunes, they're blaming the most important people in their worlds — their customers. Worse, they're continuing with their bizarre attempts to try to sue consumers into towing corporate bottom lines.
Patti Santangelo, the New York mother who's flatly refusing to be cowed by Sony BMG, Vivendi Universal, Warner Music and EMI terror tactics, is becoming a household name. Surfers are getting behind her as she gets ready to take on the Big Four Organized Music cartel in a coming court battle.
As I write this at 4:25 am Pacific time on Tuesday, the Patti Santangelo Fight Goliath campaign has reached US$4,417.13.
Show Me the Proof
Santangelo isn't alone. The Recording Industry Association of America and a member of its legal team may have committed a serious blunder in its efforts to use the American legal system to pillory another customer, Britanny Chan, a 14-year-old Michigan schoolgirl.
Only one of the RIAA's founding members, Warner Music, is actually American. The other three are Sony BMG (Japan and Germany), Vivendi Universal (France), and EMI (Britain). The RIAA is still trying to convince the world that the multi-billion-dollar Big Four labels are being "devastated" by people who use the P2P networks to share music with each other online, that its artists are being neglected and that numerous support workers are experiencing extreme financial hardship as a direct result.
It claims file-sharers are causing huge losses in sales, the convoluted reasoning apparently being that someone on the receiving end in a file-sharing action would have paid $1 or more to buy the song from an online corporate music site supported and supplied by the cartel, or from an offline retail outfit, had she or he not downloaded it from a site not supplied by the Big Four.
Case Killer
It's a patently ridiculous assertion and neither the labels nor anyone else has ever been able to explain how it works in practice, let alone prove it. However, the mainstream media consistently report it as factual.
Meanwhile, the RIAA failed to get at Britanny through her mother, so now they're trying to open a new window of opportunity.
Britanny is a minor, which means they can't haul her before a judge by herself, so they're trying to have a guardian ad litem, someone named to look out for the best interests of a child in legal proceedings, appointed.
The RIAA initiated a January 5 hearing centering on this demand and, says Recording Industry vs. The People, the hearing dealt with such questions as these:
If a guardian ad litem were to be appointed, who'd pay his or her fees?
Who'll pay the fees of the guardian's attorney?
Was it a violation of the court rules for the RIAA lawyer to use the minor's name in the caption?
The last item is the possible killer.
Britanny is a minor — and when someone sues a minor, the case is supposed to be against "Anonymous."
However, she's clearly been named.
What's the Payoff?
Lawyer Matthew Krichbaum was working for the RIAA when, it's alleged, he tried to get a 15-year-old witness to "say something that wasn't true" in Motown vs. Nelson. He's now involved in the case against Chan.
"There was an interesting exchange between the judge and Matthew Krichbaum, the local counsel," John Hermann, the lawyer who's working with the Chans, told me. "The judge basically said, OK, I'll appoint a guardian, but who's going to pay for the guardian and the minor's attorney? Not surprisingly, local counsel suggested Chan should pay the fees. The judge interjected that normally, the requesting party (the RIAA) is responsible and indicated that he was inclined to force them to pay."
If a copyright-infringement case such as this "were fully litigated, in the manner in which the RIAA litigates cases, I'd expect the guardian ad litem's fees to be in the tens of thousands of dollars, and the fees of his or her counsel and expert witnesses to possibly reach or even exceed $100,000," says Ray Beckeman, the lawyer working with Santangelo.
"Since the likely recovery in the case is zero, it being unlikely that the teenaged defendant has any nonexempt assets with which to satisfy a judgment, it's not clear why the RIAA is proceeding to ask for appointment of a guardian ad litem."
Meanwhile, the case is under submission. A written decision will be issued "in due course." Stay tuned.
---
Jon Newton
, a TechNewsWorld columnist, founded and runs
p2pnet.net
, based in Canada, a daily peer-to-peer and digital media news site focused on issues surrounding file sharing, the entertainment industry and distributed computing.
---