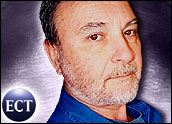 In the United States, the Big Four music labels now routinelyblackmail colleges and universities into peddling product via the likes of Napster and iTunes, with school staff working as unpaid public relations and marketing teams.
EMI, Vivendi Universal, Warner Music and Sony BMG wield the threat of lawsuits against students attending schools that fail to comply and no one sees anything remarkable in this — least of all, state officials, administrators or parents.
Now, Oxford, one of Britain's most prestigious universities, has apparently joined the club by promoting iTunes on campus. Christ Church, one of its most famous colleges, admits it will act as a Big Four anti-P2P cop, with the cartel's British Phonographic Industry darkly "monitoring" the situation in the background.
Shining a Searchlight
More than 75 [Oxford] students were "detected illegally downloading copyright material in the past two years," according to an article in the campus newspaper, The Oxford Student.
"Alan Gay, deputy director of Oxford University Computing Services (OUCS), told The Oxford Student media corporations have already notified the university on 16 occasions this academic year that students have been illegally sharing files such as MP3s and videos. Sixty were detected in the previous year," reads the piece.
"These 'cease and desist' requests are legal notices designed to force the university to stop its members usingfile-sharing software to exchange copyright material. Gay said: 'You get the impression that there's a big searchlight going round, and sometimes it focuses on us, and sometimes we go for a while without anything happening.'"
More Monitoring
The level of "monitoring and action by film and music companies" has increased, and Oxford apparently has imposed an official ban on the use of peer-to-peer software, charging colleges around 60 British pounds, or US$106, each time a complaint is received.
Oxford colleges pass this fine onto the student in question and reportedly often impose an additional charge. Christ Church was the first college to officially to warn students of the "consequences of file sharing," The Oxford Student says.
Students could face an additional penalty of 50 pounds, or around $89, if caught "illicitly downloading copyrighted material," warns an e-mail sent last week by the Oxford college St. Edmund Hall, otherwise known as "Teddy Hall."
"The illegal downloading of music, films, etc., via file-sharing software is strictly prohibited by the University and College," reads the e-mail, which claims that the dean, Dr. Alistair Borthwick, believes it is only a matter of time before the copyright infringements result in a court case. The e-mail also lets students know that Christ Church will begin a program to "actively scan all Internet traffic within the college."
Students have been warned that if the college detects any use of file-sharing software, other than Apple's iTunes, offenders will have Internet access revoked.
Differing Approaches
ITunes is not, of course, P2P file-sharing software. It's a purpose-designed, hard-core sales-cum-iPod promotional application loaded with digital rights management technology to specifically prevent sharing.
Oxford's Magdalen College, while also following basic OUCS rules, takes a more relaxed approach to file sharing, according to the Oxford Student piece. The college does not issue additional fines, but it does expect undergraduates to pay the OUCS charge — 50 pounds ($89) plus Value Added Tax, or VAT — if a copyright infringement is detected. Keble College's IT department said students would face fines of 100 pounds ($178) to cover administration costs.
The number of notices Oxford receives is surprising, says Matt Phillips, Communications Manager for the British Phonographic Industry. "We know the majority of file sharing within institutions like universities occurs across networks rather than through peer-to-peer … so we tend to limit our monitoring to communicating with heads of IT and alerting them to the dangers of illegal downloads," he notes.
The labels' previous campaigns at Oxford have not been successful.
In 2002, during an Oxford Union Debate, then Recording Industry Association of America spin-doctor-in-chief Hilary Rosen tried to carry the proposition, "This House believes that the free music mentality is a threat to the future of music."
She failed miserably, the final vote being 72 for and 256 against. So far, at least, free music continues to survive at Oxford.
---
Jon Newton
, a TechNewsWorld columnist, founded and runs
p2pnet.net
, based in Canada, a daily peer-to-peer and digital media news site focused on issues surrounding file sharing, the entertainment industry and distributed computing.
---