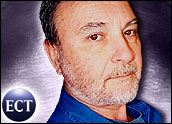 More than half of American high school students say they have at least one symptom of hearing loss, and many of their problems are directly attributable to the use of iPods and other portable music players, says a new study.
Teenagers aren't the only ones at risk, however.
Technology that provides audio through ear buds or earphones may be hammering the hearing of everyone who uses it, says theAmerican Speech-Language-Hearing Association (ASHA).
This won't come as news to The Who's guitarist, Pete Townshend, who in January blogged that headphones can be dangerous. Earphones, not live sound, "do the most damage," he wrote.
Telltale Signs
ASHA looked at the usage habits of high school students and adults with respect to some popular technology that provides audio through earbuds or earphones — devices like Apple's iPod, other MP3 players, and portable DVD players — and examined the public's views about potential hearing loss from such devices, plus what they believe would be the most effective way to convey a hearing-loss prevention message.
ASHA's poll results couldn't pinpoint exactly what caused the symptoms, but it did find usage habits among both students and adults that are potentially "detrimental to hearing health."
"For example, two-fifths of students and adults set the volume at loud on their Apple iPods, with students twice as likely as adults to play it very loud — 13 percent vs. 6 percent," ASHA said.
Meanwhile, adults were more likely than students to use their MP3 players for longer periods of time. Combined, "more than half of adults use them one to four hours (43 percent) or longer (9 percent) compared to fewer than one-third of students — a disparity that may reflect the time adults spend commuting to and from work."
Surprising Results
Conducted the last two weeks of February 2006, the ASHA-commissioned poll also found the following:
Sixty-nine percent of teens and 50 percent of adults are more likely to turn down the volume in an effort to prevent hearing loss than take other steps such as limiting listening time;
Among students, African Americans and Hispanics are more likely than Caucasians to report they've experienced at least some symptoms of hearing loss;
Adults seem less concerned about dangers to their own hearing, though in some cases they use the popular technology covered in the poll for longer periods and at higher volume than teens;
Of the technology covered, only laptops were more likely to be used by adults;
Except for the Apple iPod and one other MP3 player, teens are more likely to use the products covered by the poll for longer periods and at higher volumes;
Teenage boys are more likely than teenage girls to use the products surveyed in ways that may cause hearing loss later in life, by listening for longer periods and at higher volumes;
Older adults are more likely to report using surveyed products at lower volumes than younger adults and teens;
Equal percentages of adults and teens — approximately 48 percent — say that they are not concerned about hearing loss from using the surveyed products, with teens, at 53 percent, much more likely than adults (33 percent) to say they are concerned;
More than one half of teens say they're not likely to cut down on the time they use the technology surveyed, and 31 percent aren't likely to reduce the volume;
While a majority of parents, 59 percent, are concerned about hearing loss in their children from the use of the technology, less than half are willing to limit the amount of time their children use it;
Only 10 percent of teens say learning about the dangers to hearing from family and friends is the best way for that message to be conveyed.
'Earphones Do the Most Damage'
Townshend has brought attention to what is clearly a growing and serious problem. "I've often said that although The Who have a reputation for being loud, as a live band we were usually only as loud as everyone else," he said in January.
"We were, with Pink Floyd, simply one of the first UK bands to develop effective PA systems. People often confused the size of the rigs we started to use with loudness, not improved quality. By the way, this is not exclusively a British disease: the main leap in volume at live shows started in San Francisco with Bill Graham and the Grateful Dead.
"But today, this very morning, after a night in the studio trying to crack a difficult song demo, I wake up realizing again — reminding myself, and feeling the need to remind the world — that my own particular kind of damage was caused by using earphones in the recording studio, not playing loud on stage. My ears are ringing, loudly. This rarely happens after a live show, unless The Who play a small club. This is a peculiar hazard of the recording studio.
"The point I'm making is that it is not live sound that causes hearing damage. Earphones do the most damage," Townshend concluded.
---
Jon Newton
, a TechNewsWorld columnist, founded and runs
p2pnet.net
, based in Canada, a daily peer-to-peer and digital media news site focused on issues surrounding file sharing, the entertainment industry and distributed computing.
---