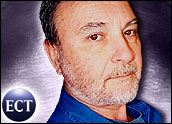 Did Recording Industry Association of America spokesperson Jonathon Whitehead switch the names of two completely different P2P applications in a deliberate bid to fool a court hearing a P2P file-sharing case?
The question is raised in an affidavit presented in the latest stage of Atlantic Recording v. John Does 1-25.
The RIAA still claims the existence of metadata in shared folders is enough to prove copyright infringement took place, but the assertion has been roundly attacked by programmer Zi Mei.
Shot in the Foot
"Whitehead shot himself in the foot with his latest declaration," Mei said. "He asserts that all 'Does' are Gnutella users, directly contradicting earlier testimony that included pages of Kazaa screenshots.
"This demonstrates that he either doesn't have a clue what he's talking about, or that he's simply inventing evidence and switching to Limewire after we totally destroyed him on the Kazaa stuff, hoping no one would notice.
"It's obvious that Mr. Whitehead doesn't know Kazaa from a kazoo either, or he's simply pretending he doesn't. The RIAA's 'investigative' techniques are sloppy and harmful, to say the least."
After weeks of non-stop, principally voluntary, work to meet the Feb. 7 deadline, Mei submitted his second affidavit, revealing telling holes in RIAA spokesperson Jonathon Whitehead's second set of assertions in Atlantic v. John Does 1-25, and also "pointing out its inconsistencies with the first declaration, as well as its inconsistency with the way computers work and with the way the internet works," according to the blog Recording Industry vs. The People.
In his affidiavit, Mei wonders if Whitehead deliberately and knowingly switched the names of Kazaa and Limewire P2P "in an attempt to mislead the Court and reconcile flaws in his earlier testimony."
If so, says Mei, "it casts clear doubt as to his integrity."
Making Sense
Whitehead "betrays either confusion or ignorance of how decentralized P2P networks like FastTrack (Kazaa) and Gnutella (Limewire) actually work," Mei says.
"Moreover," he continues, "Mr. Whitehead still has not even attempted to explain the process through which the plaintiffs allegedly obtained the IP addresses allegedly associated with [the] defendants."
In Atlantic v. John Does 1-25, which is being heard in a federal court in Manhattan, lawyer Ray Beckerman seeks a way to crack the process through which the Big Four labels — Sony Music, Vivendi Universal, Warner Music and EMI — supposedly "prove" someone has been infringing copyrights.
A man sued as "John Doe Number 8" is attempting to knock out all three prongs of the RIAA litigation machine, says Beckerman on his Recording Industry vs. The People blog. The three prongs:
The mass lawsuit against a large number of "John Does";
The "ex parte" order of discovery; and
The subpoenas demanding the names and addresses of the "John Does."
Mei's evidence is part of the process, and Atlantic v. John Does 1-25 is further damaging the Big Four's steadily eroding credibility. When it concludes, it'll have an enormous impact on future "sue 'em all" suits.
---
Jon Newton
, a TechNewsWorld columnist, founded and runs
p2pnet.net
, based in Canada, a daily peer-to-peer and digital media news site focused on issues surrounding file sharing, the entertainment industry and distributed computing.
---