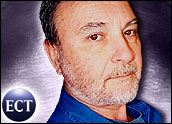 Could Apple's troubles in Europe get any worse? It's on the wrong end of a lawsuit from The Beatles in the UK, who say iTunes breaks a US$26 million settlement under which Apple Computer agreed to stay away from the music business; there's a distinct possibility Apple's digital rights management technology might go down the chiottes in France; and, now two major Danish companies, Maersk and TDC, both with online music stores, would also like to see an end to Apple's digital rights restrictions.
Through Commerce Secretary Carlos Gutierrez, the U.S. is locked behind Apple boss Steve 'I want it all' Jobs as the latter bitterly protests France's 296-to-193 vote in favor of a new copyright law that will effectively turn his DRM (make that, digital rights monopoly) into DRR (digital rights respect).
Jobs' Plans Stymied
Apple will be compelled by French courts to disclose information to allow third-party software applications to play music bought on iTunes, possibly closing the self-funding iPod promotional vehicle down in France.
Gutierrez says he'll study the law, just passed by the French parliament's lower house and which must now be ratified by the Senate. But, echoing the standard entertainment and software cartel line, he was quoted in the press as saying, "Any time something like this happens, any time that we believe that intellectual property rights are being violated, we need to speak up, and in this case, the company is taking the initiative."
The French decision must be doubly galling to Jobs because it may also stymie his efforts to introduce a hard-core marketing scheme that he's been highly successful with in the U.S., in France.
Under it, Apple gets into major teaching institutions with Apple iPods and iTunes, which are spuriously presented as important teaching aids, and which are promoted and sold on Apple's behalf by unpaid school staffs.
In the U.S., Duke University was to the fore as well, with Stanford close behind. It doesn't stop with iPods. In Kutztown, N.Y., for example, students are forced to use Apple laptops at school, whether they want to or not.
Now Apple has started a "collaboration" with the first French teaching unit for a similar arrangement.
Under the terms of the two-year partnership, Apple will work closely with a business school near Versailles on "integrating iPods and other digital technology into classrooms and curricula," says Businessweek Online.
We Want Answers
For Apple, the hookup with the "prestigious" school is the "first step in a plan to penetrate business schools and other institutions of higher learning across Europe," says the story, adding:
"And what of that pesky new French law, which could require Apple to disclose its proprietary copy-protection schemes and let iPod owners download songs from services other than iTunes? In a press statement on Mar. 21, the company called the new law 'state-sponsored piracy.'"
However, at the start of the press event to announce his bid to use French schools to weasel his product into the French educational system, officials said they "wouldn't comment on the potential impact of the law on Apple's French business." And when pressed on what a potential Apple pullout from France could mean to the iPod/iTunes deal, Pascal Cagni, who runs the company's European unit, "couldn't avoid answering." He merely, "smiled wanly, glanced down, and then said with a sigh, 'I just don't know.'"
Amendment Backer Speaks
What of France's anti-DRM move?
"I had wanted to explain the reasons which led Patrick Bloche and myself to propose this amendment during the second reading of article 7," posted Christian Paul, one of France's representatives behind the interoperability amendment, on his blog, recently. Continuing on he writes:
"The recent adoption of provisions for DRM interoperability in the French 'droit d'auteur' (copyright) law raised eyebrows in the U.S. and caused an alarmed reaction from Apple.
"I would like to explain why we proposed that. First: we want to protect consumers' freedom of choice and privacy. We oppose the idea that the seller of a song or any other kind of work can impose on the consumer the way to read it, forever, and especially in consumer's home. It is essential to assure that the consumer can choose whatever device she likes, just as she can use her favorite hi-fi today and does not have to buy a new one for each vendor.
"Second: we want to keep the market free and open. Instead of legally enforcing artificial monopolies, we prefer to create an environment where every innovator has a chance. To do so, innovators need some information on how to interoperate with existing devices. To assure that small innovators can enter the market, we do not want this information to be expensive. As we are discussing an essential freedom here — the one to create and innovate — we estimated that the only acceptable price is: without charge.
"Third: we want to protect free (as in freedom) software developers. Many of them are individuals coding for fun, not for profit. Getting information required for interoperability without charge is key to them. They must also be able to publish the source code of software interoperating with any DRM. We have put this last guarantee in law.
"Let's put it more simply: Can we allow a couple of vendors to establish monopolies tightly controlling their clients and excluding competition? I think that no American can wish for that. Neither Apple, nor Microsoft, nor anyone else is threatened by this law if they intend to play fairly with competitors and consumers. If Apple wants to remain a big player, it will have to innovate and continue providing exciting new products. This is a good news for consumers, who will get better, cheaper competition. And it is also a great news in the long term for Apple."
Back in the U.S, Apple's DRM was recently re-defined as C.R.A.P., or "Cancellation, Restriction, and Punishment" by ZDNet Executive Editor David Berlind. Fitting.
---
Jon Newton
, a TechNewsWorld columnist, founded and runs
p2pnet.net
, based in Canada, a daily peer-to-peer and digital media news site focused on issues surrounding file sharing, the entertainment industry and distributed computing.
---