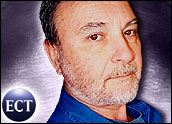 In 1932 Solomon Linda wrote a song he called "Mbube." He and the Evening Birds recorded it as a 78 in 1939 and by 1949, some 100,000 copies had been sold. If you were around in the '60s, you'd have known it as "Wimoweh" (from the Zulu "uyiMbube").
Then it showed up as "The Lion Sleeps Tonight" in Walt Disney's "The Lion King."
The song has earned an estimated US$38.5 million in royalties since it was written, according to South Africa's The Advertiser in 2004, but when Linda died in 1962, he was penniless. "Mr. Linda's impoverished family have only received about $38,500," said the Advertiser story.
Big Bucks
According to the BBC, the song was said to have earned an additional $15 million (8.4 million pounds) because of its use in "The Lion King" movies, but Linda's family have only ever received $15,000 (8,400 pounds).
Linda's 16-year old grandson Zathele Madonsela, who lives with his family in Soweto, told reporters: "Life is difficult, we are really struggling."
The worldwide copyright for "Mbube" was sold to a Johannesburg firm, but under British laws then in effect, those rights should have reverted to Linda's heirs 25 years after his death in 1962, continued The Advertiser's Mariam Isa, going on:
"This means Mr. Linda's surviving three daughters and 10 grandchildren were entitled to a share of royalties from the song."
Disney is well known as a champion of rights, but only where they apply to Disney, so it's not surprising to learn that only recently did it finally agree to put things right.
Familiar Tale
"Lawyers acting for the family of Zulu migrant worker Solomon Linda, the song's original composer, say Abilene Music — which administered its copyright in the United States — had agreed to settle the dispute for an undisclosed sum," says Billboard.
The amount is confidential, "but it's been described as an amount which is suitable for the family's needs and includes both back payments for royalties as well as future payments," attorney Herman Blignaut was quoted as saying in the Billboard story.
"The outline of Solomon Linda's story is instantly familiar," says SA Music. "Poor boy comes to the big city, creates a work of art that makes him famous, but dies in absolute poverty while his work lives on, generating money for the clever men who control the copyright. Linda was never cheated or defrauded.
"Nor was he singled out for exploitation because he was black under apartheid, although that was certainly a factor.
"He was simply the victim of a system where those with knowledge of copyright law and access to copyright lawyers often wind up controlling the destiny of those who don't."
Does this sound familiar?
---
Jon Newton
, a TechNewsWorld columnist, founded and runs
p2pnet.net
, based in Canada, a daily peer-to-peer and digital media news site focused on issues surrounding file sharing, the entertainment industry and distributed computing.
---