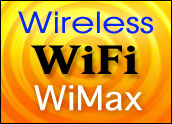 Business executives often can be found in airports pecking away at their BlackBerry devices or laptop computers, checking e-mails, reserving their next plane tickets or just surfing the Web. Now, a San Francisco start-up hopes to recreate that scene on freeways by turning cars into WiFi hotspots.
Autonet Mobile plans to unveil its Internet service provider for cars at International CES, the consumer electronics show that runs Jan. 8-11 in Las Vegas. The company is also aiming to announce an agreement with Avis to offer a portable, wireless Internet service by the end of the first quarter.
"We live in a car-centric society, and our Autonet Mobile service is directly addressing the communications needs of today's drivers and passengers," said Sterling Pratz, the company's CEO. "Today, 40 percent of all SUVs and station wagons come equipped with media centers, supporting music and DVDs, yet do not support today's connected lifestyle of the Internet, e-mail and social media."
The Connected Driver
Autonet is hoping to fill what it sees as a void in the market with its wireless broadband mobile network. The service allows passengers to check e-mail, surf the Web, play games or communicate via any WiFi-enabled device. The company claims it will work on 95 percent of U.S. roads, regardless of driving conditions or location.
Autonet's first product is a US$399 box that plugs into a cigarette lighter or standard wall plug. The box uses the company's patent-pending Tru Technology to provide automatic session management between high- and low-speed networks. Passengers will also pay a $49 monthly fee for the on-the-go Internet access.
"The auto industry has been searching for a practical in-vehicle Internet solution for almost a decade," said Dave Whetstone, wireless industry veteran and cofounder of Virgin Mobile USA. "Autonet Mobile's unique approach has been optimized around the specific challenges of keeping laptops, UMPCs (ultra-mobile PCs), gaming devices and other WiFi-enabled devices connected while driving."
Beginning of a New Era
Autonet is taking preorders for its mobile in-car routers, which will start shipping this spring. The company is also seeking funding to keep its product pipeline full. Angel investors and a round of capital from Ecosystems Ventures have helped the company bring the telematics product to market.
"We are at the beginning of an era in which the car is connected almost all the time," Egil Juliussen, principal analyst at Telematics Research, told TechNewsWorld. "The so-called traditional telematics systems, like OnStar, have been the leaders of the telematics space for a long time. Autonet has a different take: getting more content into the car."
Competition Lurks
Autonet has a window of opportunity that stretches about five years before heavy competition enters from dedicated short range communication (DSRC), according to Juliussen.
DSRC is a short- to medium-range communications service designed to support public safety and private operations in roadside to vehicle and vehicle to vehicle communication environments.
"By 2010, DSRC will start appearing," he noted. "Eventually, cars will hook into that infrastructure along major roads and sometime by 2015, every car will come with DSRC built in."