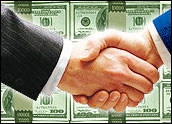 In the latest in a long string of mergers and acquisitions in the security segment, Check Point Software Technologies yesterday said it signed a definitive agreement to acquire Sourcefire for about US$225 million in cash and stock.
Sourcefire is the developer behind Snort, an open-source intrusion prevention and detection technology. That's an overall market that In-Stat/MDR predicts will reach $1.3 billion by 2007.
Check Point said it expects Sourcefire to strengthen its perimeter, internal, Web and endpoint security portfolio and to expand its opportunity to take advantage of the Intrusion Prevention and Network Awareness Internet security segments. Check Point also acquires Sourcefire's talent pool and tens of thousands of enterprise customers.
"We believe Sourcefire has world-class solutions for internal security through their Intrusion Sensor, Real-time Network Awareness (RNA), and Defense Center product lines," said Check Point chairman and CEO Gil Shwed. "These align perfectly with Check Point's vision for internal security and are ideal complements to our InterSpect and Integrity solutions."
Security Inside and Out
Through its NGX platform, Check Point delivers a unified security architecture across a broad range of perimeter, internal, Web and endpoint security solutions.
The platform is designed to enable enterprises of all sizes to reduce the cost and complexity of security management and ensure their security systems can be easily extended to adapt to new and evolving threats.
Shwed said over the past two years Check Point expanded its strategy from primarily offering perimeter gateway security solutions to provide a fully integrated architecture for perimeter, internal, Web and endpoint security.
"The acquisition of Sourcefire is an important step in delivering this expanded strategy by enhancing our set of attack prevention intelligent technologies and providing the most comprehensive internal security solutions portfolio," Shwed said.
M&A Madness
To say that the security segment of technology is seeing heightened M&A activity may be an understatement. Indeed, M&A madness may be a better description, according to analysts. Consider the recent transactions alone.
Symantec bought BindView in a $209 cash deal a few days ago and acquired anti-phishing firm WholeSecurity a couple of weeks ago. The company scooped up Sygate Technologies last month.
Microsoft bought corporate e-mail specialist FrontBridge in July. Cisco bought data sniffing firm NetSift for $30 million in June and NetApp acquired Decru for $272 million that same month … and the list goes on.
Basex CEO and chief analyst Jonathan Spira told TechNewsWorld there are two drivers in the current security M&A hustle: government regulations and a revelation of how insecure networks really are.
"The more critical issue is that people are beginning to realize how insecure most systems are," Spira said. "They are starting to see that insecure systems aren't just an issue when it comes to compliance and regulation. Insecure systems can also lead to significant problems from malware that can bring down the corporate network."
A Good Buy?
Earlier this year Sourcefire was named Frost and Sullivan's "Security Company of the Year" and the Most Innovative Company at the 2005 RSA Conference. In April, Sourcefire's Real-time Network Awareness (RNA) solution became only the fifth product in history to receive "NSS Gold" for its unique ability to solve customers' complex security awareness issues.
"Security is a very competitive market. Consolidation is rampant," Spira said. "Keep in mind that companies are more prone to buy from larger companies than smaller companies. In any space, small is a problem. Check Point just got a little larger."