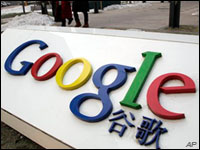 Google appears to be back and functioning in China after a temporary shutdown that's being linked to the Communist Party's major meeting.
Services including Gmail, maps, documents and search were reportedly slow or blocked in many parts of China for about 12 hours beginning Friday evening, according to Google's transparency report, which tracks its services around the world. Around 6 a.m. Saturday, most of its normal traffic seemed to be restored.
In the meantime, frustrated Chinese users had taken to social media outlets such as Sina Weibo, China's analog to Twitter, to complain about the accessibility issues.
None of China's public officials commented on or confirmed the outage, although it wouldn't be the first time certain sites were censored in the country. Most recently, a New York Times article revealing the great wealth amassed by some of China's top Communist leaders, including the family of the country's premier Wen Jiabao, was blocked in China.
Google is also no stranger to China's censorship policies. In 2010, it announced it was routing its searches through Hong Kong instead of mainland China, which does not have to adhere to Beijing's Internet policies. Since then, Google has been available in China but with reported bouts of slow connections or partial blocks.
The country's Communist Party is holding its once-every-five-years National Congress to discuss a transition of power within China, and some users on Sina Weibo blamed the government discussions for the latest Google blockage.
Google did not respond to our request to comment for this story.
Rocky Relationship
Google's tumultuous ride in China is source of discontent in the country, said Michael Stanat, global research executive at SIS International Research, who has spent time living, researching and working in China.
"It's a difficult issue for a variety of reasons," he told TechNewsWorld. "Many say that there are connectivity issues with Gmail and other Google services in China, which can be frustrating."
The lack of accessibility is especially aggravating since there is no reliable source to comment on the connectivity of certain websites such as Google, or provide information about when — if it all — it might be back. That uncertainty surrounding who could take the blame for such outages make it a sensitive topic both in the U.S. and China, he pointed out.
"It's also a difficult issue in the sense that there is no public authority that can confirm or deny if the services are working," he noted. "It's not an easy issue."
No Thanks, Say Businesses
With the sensitivity and frustration surrounding Google's presence in China making it a source for headaches among Chinese Internet users, the company can't expect to be the dominant search force in China, said Anupam Chander, professor and scholar in the law of globalization and digitization at UC Davis School of Law.
"China's on-again, off-again censorship of Google makes it difficult for Chinese users to rely on that service, and thus diminishes its attractiveness," he told TechNewsWorld.
Along with decreasing its portion of the search market share, it also turns away potential business and advertising deals in a large, booming economy, he pointed out. The reluctance to let Google compete for business within China's networks isn't doing the censors any favors, said Chander.
"At the same time, the blocking of Google signals to Chinese users that someone — probably the government — is denying them information, and in that way diminishes the perception of the government," Chander noted.