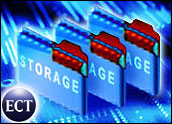 It's a good time to be in the storage business. There seems to be plenty of revenue for the top players in the face of growing demand for data protection. Likewise, there are a slew of reputable vendors giving IT managers market options galore.
A quick storage industry snapshot shows the worldwide market is posting double-digit growth quarter after quarter. In fact, the storage software market grew 14.9 percent year over year to US$2.1 billion in the first quarter of 2005, according to IDC's Worldwide Quarterly Storage Software Tracker.
"Continued customer spending on software for data protection, storage resource management and compliance has helped to drive this positive start to 2005," said Rhoda Phillips, research manager for IDC Storage Software.
"Spending growth related to data protection, including replication, backup, and archive software, is an indicator of customers' continued concerns about application availability, data management, and business continuity," she said.
EMC Corp. topped the list of vendors with $625 million, up almost 18 percent from a year ago. The other top five vendors, in order, were Veritas Software, IBM, Network Appliance and Hewlett-Packard, according to IDC. NetApp and EMC posted the strongest results among the top 5 vendors, with 61.1 percent and 17.9 percent year-over-year growth, respectively.
Conducting a Needs Analysis
Each of these vendors has a solid product, which means an IT manager approaching the decision-making process has a considerable amount of thinking to do.
Kevin Schoonover, director of engineering for Arrow Enterprise Storage Solutions, a company that distributes products from the five leading storage vendors, told TechNewsWorld that IT managers should conduct a needs analysis to determine the completeness of the product offering, its alignment with the company's strategic direction and interoperability.
"The first step is to review what you need for software in your current environment and what you feel you will need in the near future, such as D2D backup, e-mail archive, storage resource management, security, and storage area network management," Schoonover said. "Once you have gathered your needs you will be in a better position to evaluate prospective vendors."
The second step, according to Schoonover, is to compare vendor product offerings to your needs. All backup packages will back up data to tape, but how do they handle disk to disk or storage area network (SAN) backup? Every storage resource management (SRM) functions differently. How well does it support your existing/future hardware environment?
Examining the Market Changes
Schoonover offers more questions IT managers should ask themselves when making this important purchase decision: What is the long-term direction of the vendor's software offering? Are they investing in new technology? Are they acquiring technology? Are they investing in technology that matches the path you are taking?
These are important questions, especially in a consolidating storage market. Consider recent M&A activity: NetApp scooped up Decru. Sun is purchasing STK. McData is acquiring CNT. Symantec gobbled up Veritas. And EMC is on a buying spree of its own. Then there's HP with its recent layoff announcement stirring the pot. There are many questions and fewer answers as to what these companies may look like in the long-term — or even the near-term.
"As a customer it's hard to figure out what is going on. There's nothing wrong with the products, but you have to wonder how all the consolidation will change service and support — or if the product is going to go away," IDC's Phillips told TechNewsWorld. "Choosing a storage vendor can be a tough decision."
Looking at Life Cycle Costs
Alastair McAulay, a managing consultant in PA Consulting Group's IT Infrastructure practice, specializes in implementing IT infrastructures that are integrated into an appropriate service management framework, including the "people issues" involved with successful deployment.
Alastair told TechNewsWorld that IT managers that have to choose between vendors need to build a full lifecycle cost case and undertake a structured evaluation.
"The cost case needs to be well thought through and needs to take into account initial purchase costs, maintenance costs, installation and commissioning labor charges, cost of training support staff in what could be a new technology," he said.
The structured evaluation should take into account the factors that are important to each individual business, such as quality of external support in the region, upgrade flexibility, and power requirements. Alastair said these factors will vary according to circumstance, and ideally should be weighted in priority order.
"What it all amounts to is that there is no single right answer," Alastair said. "It depends on circumstance — where you are starting from, the type of organization you are, and where you might be in a few years time."
Schoonover agreed, adding that there has been a mindset that dictates buying all software from the same vendor to ensure interoperability. But that's not always the most strategic approach in today's market.
"Today, I feel it is best to find the right application based on the criteria listed above and work with your chosen vendors to ensure interoperability between applications," Schoonover concluded.