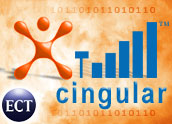 Cingular will be the first carrier in the United States to offer Hewlett-Packard's new iPAQ handheld device, the companies announced Thursday. The phone features five wireless communications technologies including a global positioning system, or GPS.
HP's iPAQ hw6920 series Mobile Messenger was designed with business users in mind. Users can check corporate e-mail or even industry-specific applications over the handheld device, which will be available Oct. 31.
"Whether it's through a wide area, local area or Bluetooth connection, customers will be able to access their e-mail and other corporate data while having location-based capabilities with the device's built-in GPS receiver," said Cathy Quaciari, director, B2B devices for Cingular, the nation's largest wireless carrier.
On-the-Go GPS
For all of Cingular's boasting about its network and HP's noise about the device's features, it's the GPS technology that may drive its sales, note some observers.
"There's some real value there. Capabilities ranging from e-mail to the ability to run IT applications and navigational tools will be in more and more phones. Maybe instead of carrying around laptops one day we'll just be able to carry a very nice phone around," Allyn Hall, director of wireless research at In-Stat, told TechNewsWorld.
The iPAQ's built-in GPS receiver allows Cingular customers to receive directions to a variety of local destinations. The hw6920 series will debut with Cingular's first generally available, location-based solution — TeleNav GPS Navigator from TeleNav.
With TeleNav GPS Navigator, HP iPAQ users can get turn-by-turn voice and onscreen directions directly on the device for use when driving or walking. TeleNav GPS Navigator, which provides information on more than 10 million points of interest and offers additional search tools, is available as a subscription service from Cingular.
Microsoft Joins In
Alternatively, HP iPAQ customers also can choose from several other GPS navigation options — including Microsoft Pocket Streets or HP Navigation Maps and Software.
The new iPAQ will rely on the Windows Mobile 5.0 operating system. The mobile OS offers users an experience similar to the Windows desktop version, with mobile versions of Windows Media Player, Internet Explorer and Outlook.
The HP iPAQ hw6920 series also includes the Messaging and Security Feature Pack for Windows Mobile 5.0, which offers up-to-date e-mail, calendar, tasks and contacts, as well as advanced security features, including remote device wipe, remotely enforced IT policy and S/MIME support.
Try Before You Buy
Cingular will sell two versions of the HP iPAQ hw6900 series Mobile Messenger. The hw6925 has a built-in camera and the hw6920 comes without a camera. Prices start at US$359.99 for business customers with a two-year contract.
It's not the exclusive phone deals or the pricing plans that necessarily put Cingular at the top of the wireless provider pack, though. It's the coverage, Hall said. Cingular's Edge network is the largest national wireless data network in the United States, with availability in more than 13,000 cities and towns and along about 40,000 miles of interstate highways.
"Whether you are talking data coverage or general voice coverage, Cingular has a good deal," Hall said. "The other operators argue in various ways with pretty graphs and charts that they have good coverage, too, and in some cases they do, but overall, they simply aren't competitive with Cingular and Verizon."