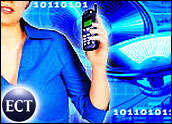 Cingular Wireless on Thursday threw down the mobile music gauntlet with several digital media partnerships and the launch of Cingular Music. However, it may be too little too late when it comes to competing with the market leading iPod.
Cingular Music, which teamed with Microsoft to incorporate Windows Media digital rights management into select handsets, has also partnered with XM Satellite Radio, Napster, Yahoo Music and eMusic.
"Music has become such an integral part of our lives and many consumers want a simple and integrated mobile music experience that gives them access to all things music — including songs, videos, news, data and information," said Jim Ryan, vice president of consumer data services at Cingular Wireless.
One-Stop Shop
The ability to listen to music on cell phones is not new, but Cingular believes that its open access to subscription services will get some attention. Cingular is offering a sort of one-stop shop for users of several leading music download services, including eMusic, which sells songs in MP3 format.
Cingular Music can claim to be the first U.S. carrier to distribute subscription music to the handset, allowing consumers to extend their existing music libraries rather than rebuild them. Consumers can access millions of songs but not from the iTunes Music Store. However, it's not clear that the majority of listeners want to extend their existing music libraries beyond iTunes, according to Inside Digital Media Senior Analyst Phil Leigh.
"This is an innovation that's coming too late to the marketplace to significantly impact the iPod," Leigh told TechNewsWorld. "At this point, people who have the iPod, which is clearly a mainstream product, are not going to be interested in dividing up their library between iTunes software and some other software. They want all their music concentrated in one place. It's going to be hard to dislodge iPod and this is just not going to get the job done," he added.
Bells and Whistles
Consumers may applaud Cingular's partnership with XM Satellite Radio for mobile access to audio streams of 25 popular commercial-free music channels. Consumers can access this service for $8.99 a month.
Cingular customers can also identify a song with MusicID, Cingular's music-recognition service. Within seconds, a song can be located in a database of more than 3 million songs and then, when identified, the consumer can purchase it directly from the handset via a direct link to the Napster library.
A Small Risk
Cingular Music also offers music videos, streaming music, and entertainment news through Billboard Mobile, among other features and functions designed to attract music fans to purchase one of the five phones that work with the new service: the Cingular SYNC by Samsung, LG CU500, Sony Ericsson W810i, Sony Ericsson W300i and Cingular 3125.
"This initiative is not a big risk," concluded Leigh. "If Cingular can get everything to work, then it is a convenience for the consumer. If it works as advertised with the subscription services smoothly and without glitches, it will be something new and materially different. However, you have to be more than just materially different at this point to dislodge the iPod. It needs to be significantly different."