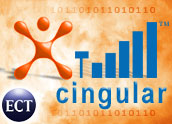 Cingular Wireless on Tuesday launched an on-demand streaming video service with a selection of content from providers including Fox and HBO.
Consumers can now watch video clips of their favorite television shows, sports, news and weather, entertainment and premium content on their high-speed 3G-capable Cingular phones.
"Cingular Video offers the highest degree of personalization and the widest selection of desirable content in the U.S. market," said Sam Hall, vice president, Mobile Browse and Developer Program, Cingular Wireless. "The service is designed with today's mobile consumer in mind and users are nevermore than a few clicks from their favorite programs."
Sports Galore
Cingular Video offers plenty of content for sports fans, including content from ESPN, FOX Sports, FUEL and SPEED. This is one content type that analysts said would buoy mobile TV because of viewers who don't want to miss their favorite athletes scoring winning points.
Cingular Video also includes local weather forecasts in 100 cities across the country, another on-demand type of content analysts predict will foster adoption of mobile TV.
The service offers trailers of popular series, like "Desperate Housewives" and "Lost," children's television programming from the Cartoon Network and Disney Channel, and music videos.
Will Anyone Watch?
The question of whether mobile TV is viable is no longer an issue, it appears. While the screens are admittedly small, analysts said they are suitable for viewing short clips, especially news, weather and sports.
The larger question is, will anyone watch? Research firm EMarketer forecasts that the number of consumers watching TV programming on cellular phones will rise to 15 million in 2009 from 1.2 million in 2005, offering plenty of opportunity for ancillary income for wireless carriers.
It's not just the big three wireless carriers that have a stake in the matter, though. Microsoft, British Telecom, Qualcomm, Samsung, and a growing list of content providers are also hoping to cash in on the mobile TV trend.
The Market Differentiator
Content will be the market differentiator, according to Weston Henderek, senior analyst of wireless services at Current Analysis.
Currently, Cingular has one of the widest selections on the market through content deals with major broadcasters. Cingular Video is the only service to offer Fox News clips in addition to news broadcasts from CNN and NBC. Cingular Video also offers exclusive content from HBO Mobile and HBO Family Mobile.
"One of the areas that's going to slow down the adoption of mobile TV is securing broadcasting rights, but the carriers who can secure broadcast rights have more of an opportunity for uniqueness in their service," Henderek told TechNewsWorld. "If they get rights to something that no one else has and it's a hot area, then that gives them an advantage."
Of course, there is a price for progress — namely US$20 a month and $99 for the actual smartphone, plus a two-year contract. Cingular's video service requires a subscription to its Media Net wireless Internet service and a Samsung handset fine-tuned for mobile TV.