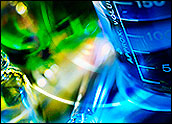 Controversial television commercials about the war in Iraq and stem cell research may be remembered long after the 2006 mid-term elections are over.
The debates began swirling over a Republican ad that used fear tactics to sway voters, but grew louder in the wake of a pro stem cell research campaign featuring actor Michael J. Fox, who suffers from Parkinson's disease. In the ad, Fox pleads for voters to elect candidates that support stem cell research as his body manifests the symptoms of the disease, which include uncontrollable movements.
Scientists believe stem cell research offers great promise in the search of a cure and better treatment for many deadly diseases and disorders, including Parkinson's disease and diabetes. It's controversial because it depends on the use of embryonic stem cells taken from human eggs fertilized in labs — and some fear it could lead to cloning.
A Raging Debate
"They say all politics is local, but it's not always the case," Fox said in the ad. "What you do in Missouri matters to millions of Americans, Americans like me."
That statement opened the floodgates against Fox. Republican radio host Rush Limbaugh told his listeners that Fox was exaggerating his symptoms. "He is moving all around and shaking, and it is purely an act," he said during his broadcast, which reaches 10 million listeners. "This is really shameless of Michael J. Fox. Either he didn't take his medication or he's acting."
ABC talk radio host Sean Hannity, also co-host of the Fox television news show "Hannity & Colmes," offered his own negative view. "Michael J. Fox admits now that he stopped taking his medication prior to testifying before Congress," Hannity said. "You have a right to speak up, but he also has a right to be criticized."
Public Opinion
For all the opinions of news media, ultimately it's voter opinion that will matter on election day. From that perspective, Fox and his stem cell research views were well received, according to a national study conducted by HCD Research.
The study, which included Republicans, Democrats and independent voters, revealed that Americans' support for stem cell research increased after they viewed an ad featuring Fox.
Republicans who indicated that they were voting for a Republican candidate decreased by 10 percent after viewing the ad (77 percent to 67 percent). Independents planning to vote for Democrats increased by 10 percent, from 39 percent to 49 percent.
Ads With Impact
"The Fox ad is the second-most impactful political ad we've ever measured. The Swift Boat Veterans for Truth ad in 2004 was the most impactful," Glenn Kessler, managing partner of HCD Research, told TechNewsWorld. "The challenge with advertising is to get people to view it. The Fox ad caught attention."
HCD also conducted a public opinion survey of the "These Are the Stakes" ad that Republicans ran this week. The ad features images and quotes from Osama Bin Laden and other Al Qaeda members predicting more intense attacks and destruction than the 9-11 attacks.
Among all respondents, more than half reported feeling disgusted, irritated, enraged and contemptuous. By party affiliation, 65 percent of Democrats indicated that they were disgusted, irritated, enraged and contemptuous. More than half of Republicans reported being tense, conflicting and anxious, while 56 percent of Independents indicated that they were disgusted, irritated, enraged and contemptuous.
"In this ad war, I'd score one for the Democrats," Kessler concluded.