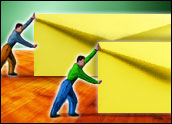 Corsair has launched Flash Survivor, a new line of rugged USB drives that are designed to withstand major shocks. The 4 GB version lists for US$59.99, while the 8 GB drive — which incorporates higher-speed IC (integrated circuit)-paired memory and a faster controller — costs $129.99.
The new drives feature 256-bit encryption and are water-resistant at up to 650 feet deep and 20 atmospheres of pressure. Each comes with an EPDM (ethylene propylene diene monomer) waterproof seal.
The products are encased in CNC (computer numerical control)-milled aluminum and include rubber-molded collar shielding. When a drive is dropped, the rubber absorbs the impact to prevent damage to the inner drive and the USB (universal serial bus) connector.
An outer metal tube comes with two end caps to provide enforcement for the hollow tube, preventing it from collapsing when abused.
Tough Enough
The new series is designed for users who don't want to worry about whether their equipment can stand up to the active lifestyle they lead, said Jack Peterson, vice president of marketing at Corsair.
"Corsair has built the Flash Survivor family specifically for customers with a bring-it-on attitude," Peterson told the E-Commerce Times.
The hard drive line evolved from Corsair's Flash Voyager GT, which the company inadvertently discovered was extremely durable.
"So, we added on to that with an encasement and waterproofing through additional engineering," said Peterson, noting that engineers rolled over the drives with an 8,000 pound forklift and dropped them to water depths of 650 feet without any adverse effects.
Performance Hike
The drives are engineered with highly screened NAND flash and an advanced memory controller, and feature enhanced dual channel and interleave memory technologies, according to the company.
"This means lightning-fast file transfer — up to five times faster than typical USB drives," said Peterson.