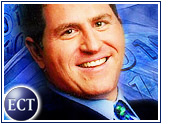 On a recent Sunday afternoon, Brian Olson went online at Dell.com and custom-designed a PC, a variant of the Dell 8300 series, for himself and his wife.
"I had a Dell laptop when I was with EchoStar," said Olson, who is now a marketing executive at Video Professor in Lakewood, Colorado. "It was a great computer. I had an IBM ThinkPad before that. This was the first time I was enthusiastic about buying a computer," he told TechNewsWorld. "I needed a powerful desktop PC for video editing. We plan on interfacing that with a Dell handheld so when we go on vacation, we can check our e-mail. The PC will be our mothership."
After millions of customer stories like Olson's, Dell has become the number one PC maker, according to research firm Gartner. By leveraging its success on the desktop, the company also has become a leading maker of servers. In fact, Dell was the second-leading server vendor in terms of units shipped last year, notching a 28 percent year-over-year sales gain to 276,000 units. The company's servers are primarily low-cost machines, a fact that helps it tap into the business applications market's trend toward smaller servers.
This fall, the direct-sales giant began challenging competitors in the LAN realm as well, offering, for free, a network-management tool to customers. Free software is just the beginning of Dell's new strategic move.
Emerging Technology Leader?
"I see them as a leader in the business model that has made them so successful — the direct distribution model," said Larraine Segil, a partner in Los Angeles-based investment and management firm Vantage Partners and a frequent business commentator on CNN and CNBC. Segil — like many other analysts — does not see the company as much of a technology leader, however. "They are nowhere compared to HP and IBM when it comes to technology development," he told TechNewsWorld.
But that has been changing. The company is rapidly expanding beyond its roots, providing a set of technologies designed to help consumers stay connected to their "mothership" PCs and yet access an array of new technologies and services.
For example, this fall the company started shipping an LCD television as its first entrance into the consumer electronics fray. The company also released an MP3 player similar to Apple's iPod. In addition, in late October, Dell landed a five-year contract from Boeing to provide services for that company's PCs, a lucrative niche in the computer business today. Boeing, based in Chicago, is the world's largest aircraft maker and has 150,000 employees who use PCs or notebook computers.
"Extending into new categories … gives us another opportunity to revolutionize products on behalf of our customers," said founder and CEO Michael Dell at a recent news conference. "By introducing high-performing consumer electronics products that closely integrate with the computer, we are delivering what is most important to consumers — content and experience — at a better value than they are currently getting."
The company also is using the latest chip technologies in its servers, offering servers based on the 64-bit Itanium 2 processor to compete against both IBM and HP, which offer similar models.
Pentium and Beyond
In the PC arena, Dell has rolled out a computer powered by Intel's brand-new Pentium 4 Extreme Edition processor. Intel debuted the chip in September, targeting gamers and power users. The chip, which is designed for motherboards that have an 800-MHz front-side bus — is a 3.2 GHz processor that relies on Intel's application-accelerating hyperthreading technology.
The chip is being offered as an option for purchasers of Dell's Dimension XPS desktops and Precision 360 workstations, which are often used by engineers and animators for complicated 2D and 3D tasks.
The company also is working with partners to introduce cool new technologies — such as biometrics — to the desktop. "Dell, through its public-sector vertical sales organization, is now offering our software and biometric device hardware to their enterprise customers in government, healthcare and education," said Walter G. Hamilton, vice president of business development at SAFLINK, located in Bellevue, Washington.
"These organizations need to achieve a higher level of assurance that the person seeking network access is who they claim to be," said Hamilton. "And biometrics is a reliable and convenient way to accomplish this objective by linking the claim of identity to a specific human characteristic that only that person possesses, such as a fingerprint."
Competitors Bite, Dell Bites Back
Competitors, however, have been a critical of Dell's latest strategies, with some even suggesting that Dell's choice to move into other consumer electronics areas is a case of too little too late. But Dell doesn't seem perturbed about the catcalls.
Releasing several consumer electronics products certainly doesn't hurt the company, and the company's noted marketing doesn't hurt, either. In fact, both strategies — the move into consumer electronics and the company's marketing successes — could help Dell stay at the head of the pack.
Olson said he decided to buy a Dell when he attended his daughter's graduation from the University of Texas earlier this year and heard Michael Dell speak at the commencement ceremony. The motivational speech motivated Olson to buy.
"I logged on to the Internet with my IBM ThinkPad to buy the Dell computer," he said.