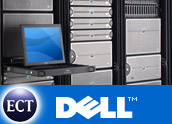 Dell today said it has added multi-core technology from Intel to its portfolio of dual-socket servers and workstations. Meanwhile, AMD also said today that IBM, Hewlett-Packard and Sun are using its new dual-core Opteron.
The announcements undoubtedly heighten the competition between AMD and rivalIntel. Analysts said the X86 dual-core processor market is one to watch as AMD and Intel both continue to push the innovation envelope.
AMD's closer relationship with Dell is a significant step toward the longtime underdog gaining more respect in the market, according to Brian Matus, vice president for market research for IC Insights. He told TechNewsWorld that a significant step may not be enough when there is a huge mountain to scale, however.
"Previously, Dell was closely linked to Intel for all its processor supply," Matus said. "Dell is actually working closely with AMD as a supplier of microprocessors for their systems to a bigger level than we've seen in the past, but Intel is still dominating."
Dual-Socket Dells
The dual-socket Dell PowerEdge 1850, 2800, 2850 and 1855 blade servers, along with the Dell Precision 470 and 670 workstations, will now incorporate dual-core, Intel Xeon processors. These new processors incorporate the same Intel chipsets used in single-core Intel Xeon processors for servers and workstations. Prices for the servers range from US$2,448 to $2,748.
"Delivering multi-core technology based on the same Xeon architecture that runs tens of thousands of applications and more than 70 percent of today's industry-standard platforms will help customers get more out of their IT investments today while optimizing capabilities to handle growth and future performance demands," said Jeff Clarke, senior vice president of the Dell Product Group.
First-To-Market Advantage
Matus said AMD already had the first-to-market advantage. Now, the company is releasing a second wave of dual-core processors, with three new models unveiled today.
The dual-core AMD Opteron processor Model 880 for up to eight-way, 16-core enterprise-class servers and Model 280 for high performance dual-processor workstations and servers are immediately available. Model 180 for one-processor, two-core servers and workstations is expected to be available within 30 days. The Dual-Core AMD Opteron processor Model 880 is priced at $2,649 in 1,000-unit quantities and the Model 280 is priced at $1,299 in 1,000-unit quantities.
"Introducing the next Dual-Core AMD Opteron processor models less than five months after launching the initial Dual-Core AMD Opteron processors shows undeniable technological leadership," said Marty Seyer, corporate vice president of Commercial Business and Performance Computing at AMD. "In terms of performance-per-watt, nothing can touch the Dual-Core AMD Opteron processor. It represents a potential annual savings of $50,000 for a datacenter with 500 two-way systems."
Dueling Chips
AMD also said Intel has yet to accept its Aug. 23, 2005 challenge to a dual-core duel to evaluate workloads and power consumption. AMD's proposed duel would be a live, public performance evaluation between server platforms based on the highest-performing dual-core AMD Opteron 800 Series or 200 Series processors and the corresponding Intel x86 server processors that are commercially available in volume.
But analysts said Dell's adoption of AMD might say even more to the market than a challenge that may or may not ever be accepted.
"Everyone looks to Dell as the number-one supplier to see what they are doing in terms processor selection and what they are putting into their systems," Matus said. "If they see some success or some interesting development coinciding with the implementation of the AMD processor, then maybe down the line it may be willing to give AMD a closer look as well."