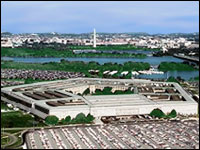 The Department of Defense announced Tuesday it would be opening up its communications platform to allow Apple and Android tablets and smartphones, a move that acknowledges the impact of mobile technology in the civilian world while also increasing the potential for added security risks.
The DoD announcement is part of a new mobile device strategy begun last June. At the time, the department said it was aware that tablets, smartphones and mobile apps were becoming increasingly powerful communications tools. It claimed it was doing all it could to open up the DoD workplace to more of those devices and apps.
The department also wants to improve wireless infrastructure so it can establish better and more secure connections for voice, video and data capabilities.
The switch would help foster global collaboration, improve flexibility, enable devices to hold both secret and open data, and cut down on costs, the DoD said.
The DoD did not respond to our request to comment for this story.
The Pentagon's BYOD Trend
The move isn't just a win for iOS and Android; it could be seen as one more area where BlackBerry's ailing marketshare is going to take more flak, said Rob Enderle, principal analyst at Enderle Group.
"This was almost their exclusive playground," he told TechNewsWorld. "Opening this market up to others clearly puts BlackBerry at increased risk."
The DoD's 600,000 mobile device users won't necessarily be stripped of their BlackBerrys. The deparment's goal is simply to open up its platform to more devices. This acknowledges the recent trend of employees bringing their own devices to work rather than using their given BlackBerrys, said John Feland, CEO and founder of Argus Insights.
"The DoD has been using iPads for years for training and to support troops on deployments," he told TechNewsWorld. "The shift to allow Android and iOS in classified environments is more related to advances in the bring-your-own-device infrastructure enabled by AirWatch and others than the widely rumored demise of Blackberry."
Tablet computers can help the armed services save money and streamline equipment needs, Feland noted. "That is becoming the workhorse of the DoD. Gone are the thick technical manuals for aircraft maintenance when the entire library of repair documentation for a Blackhawk helicopter can be stored and used on an iPad."
Remaining Secure
Besides having devices that are more in tune with today's capabilities, security is a top priority for the agency responsible for the nation's defense, said Enderle. Those fears are likely only heightened by recent attacks on major companies and publications including the New York Times, the Wall Street Journal and Twitter.
The DoD is aware of those security concerns, but Google does have a powerful Washington lobby that most likely allowed it to be included in the agency's new push for a more diverse device platform, he added. Until Google can ensure mobile app security, though, the iPhone and iPad might be getting a bigger thumbs up from the DoD.
"The Pentagon is very security focused of late, and with 41 percent of Android phones currently estimated as being infected with malware, I expect they will come up with policy reasons to delay implementation until they are feeling better about that platform," Enderle predicted. "iOS is used by the President, however, and he does run the armed forces, so those devices are more likely to be fast-tracked."