Unbounded Robotics unveiled the UBR-1 on Monday, a US$35,000 mobile manipulation platform designed to provide engineers with functional robot hardware to aid development of apps for the device.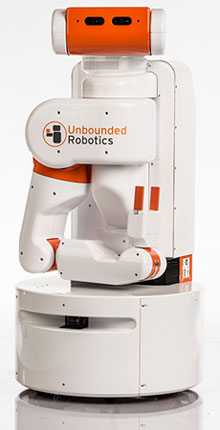 The company is a spinoff of Willow Garage, the robotics maker that launched the PR2, a $400,000 robot that in addition to functioning in manufacturing and service environments, could do the laundry, file paperwork or open the door.
It's natural to compare the UBR-1 to the PR2, the robotics platform that Willow Garage designed and produced five years ago, said Unbounded Robotics. It can perform many of the same functions.
However, the UBR-1 offers a "far more sophisticated platform" than the PR2, not to mention it's a tenth of the price, said Melonee Wise, cofounder and CEO and Unbounded Robotics.
"The biggest difference is honestly a 90 percent reduction in price," she told TechNewsWorld. "That will put the robot in the hands of more users, who will extend the platform. The UBR-1 is also more easily extensible, has higher-level software integration, can reach the ground, and is more practical to use around people in commercial instances."
Robot Platforms for All
Some of those commercial instances could include stocking shelves or inspecting products, said Wise. The UBR-1 can help spark advances in robotics software as well.
"With respect to robotics researchers, the UBR-1 is the most sophisticated mobile manipulation platform now available," she noted. "It's a game-changer for researchers who often have to build their own robot hardware before even beginning to tackle the software."
UBR-1 runs on ROS, an open source robot operating system that was developed by the Stanford Artificial Intelligence Laboratory and Willow Garage. The platform is designed to allow robotics engineers to design practical applications for the one-armed robot, which will be critical to its success, said Wise.
"The UBR-1 is a platform for development, so it is essential that the platform be open source," she told TechNewsWorld. "We think that what Android is to mobility, ROS can be to robotics."
Unbounded Robotics said it will start taking orders for UBR-1 soon, and it is expected to ship by the summer of 2014.
Sparking Innovation
In addition to its practical applications, the UBR-1's price tag is one of its most appealing features, said Andrea Thomaz, associate professor of interactive computing at the Georgia Institute of Technology. By releasing a robot that isn't prohibitively expensive, Unbounded Robotics could help spark innovations by engineers, developers and designers who couldn't afford the PR2, for example.
The UBR-1 is its price tag, which is "an order of magnitude cheaper than its predecessor, the Willow Garage PR2," Thomaz told TechNewsWorld. "This will make the platform much more accessible, and could greatly increase the number of researchers and engineers that have access."
Another area where the UBR-1 seems poised to excel is in interactions with humans, she said.
Some of the most promising robotics applications — being able to care for bedridden patients or educate people in untraditional ways, for instance — are becoming more possible as robotics platforms become increasingly able to interact with humans, observed Thomaz. The UBR-1 will likely help that development.
"I'm excited to see that the UBR-1 is a nice size for human-robot interaction tasks," she added. "More so than the PR2, I think it is possible to deploy this robot in human environments for the purpose of interacting with people. The software for perception and intelligence in such tasks still remains to be developed, but from a hardware standpoint alone, I think this will be a very interesting platform for HRI research and applications."