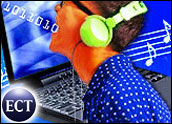 Sales of music through the Internet and via mobile phones skyrocketed to US$1.1 billion in 2005, up from $380 million the previous year with the figure expected to grow in 2006, according to the International Federation of Phonographic Industry (IFPI).
The IFPI's Digital Music Report 2006 revealed that music fans legally downloaded 420 million single tracks from the Internet last year. That's 20 times more than two years earlier.
The volume of music licensed by record companies doubled to over 2 million songs in 2005, and digital music now accounts for about 6 percent of record companies' revenues, up from practically zero two years ago.
"Two years ago, few could have predicted the extraordinary developments we are seeing in the digital music business today. There will be further significant growth in 2006 as the digital music market continues to take shape," IFPI Chairman and CEO John Kennedy said.
More Legal Downloads
The legitimate digital music business is steadily pushing back on digital piracy. In Europe's two biggest digital markets new IFPI research indicates more music fans are legally downloading music than illegally file-swapping.
Kennedy said in the United Kingdom and Germany the number of legal buyers using sites like iTunes, Musicload and MSN actually exceed the number of illegal file-swappers. He expects this trend to spread as new and pioneering legal music distribution channels open up to consumers.
Mobile Music
"A new wave of digital commerce, from mobile to broadband, is rolling out across the world," Kennedy said. "It is generating billions of dollars in revenues, and it is being driven, to a large extent, by music — by the people who create music, who produce it and who invest in it."
The mobile phone became a portable music device in 2005, the first year in which song downloads to mobile phones spread internationally, according to IFPI. Mobile music now accounts for approximately 40 percent of record company digital revenues.
Record companies are seeing sharply increased sales of master ringtones (excerpts of original artist recordings) which account for the bulk of their $400 million-plus mobile music revenues.
Challenges Remain
Kennedy warned that the challenges the recording industry is facing are far too big for any complacency. In particular, he said the industry needs more cooperation from service providers and music distributors to help protect intellectual property and contain piracy.
"It is not enough that they share in the success of the digital music business — they need to take on their share of the responsibilities as well," he said.
Kennedy believes the music business needs support for Digital Rights Management (DRM). Some analysts fervently disagree, including Inside Digital Media Senior Analyst Phil Leigh.
The DRM Debate
"This reminds me of an old quote by the late Senator Everett Dirksen," Leigh told TechNewsWorld, referring to the enormous profit music industry players are used to enjoying. "'A billion here, a billion there. Pretty soon you are talking real money.'"
If the record companies hope to continue to enjoy a billion-dollar digital market, Leigh said they'll need to ditch DRM altogether. In fact, Leigh calls DRM a ticking time bomb that will explode when consumers become frustrated in learning they cannot copy their favorite CDs onto their computers anddownload them to their iPods.
"The record industry has been pursuing copy protection like Captain Ahab pursued the white whale. It's not doing anybody any good," Leigh said. "It's one thing to ask early adopters to deal with DRM, but it's quite another when you enter the mass market."