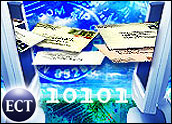 In a four-year-old case closely monitored by civil liberties groups nationwide, a federal appeals court in Boston yesterday said a businessman charged with intercepting and reading his customers' e-mails can be tried under a federal wiretapping law.
The wiretapping law was passed in 1968 and amended in 1986 to address emerging computer technologies. The law is designed to protect the privacy of messages in transit.
Privacy advocates said the ruling sends an important message that e-mail is subject to protection, both against government wiretapping without a warrant and against misuse by service providers.
E-Mail Snoop Revealed
The privacy-related case revolves around Bradford Councilman, former vice president of Interloc, a rare book dealer that offered free e-mail service to customers.
Bradford allegedly began intercepting e-mails Amazon.com was sending to his clients beginning in 1998. He and his associates allegedly read the messages to determine what the Internet giant was peddling in order to steal the sale by offering better deals.
A grand jury indicted Councilman in 2001 for violating a federal wiretapping law. But defense council argued that the wiretap statute did not apply because the e-mail was intercepted while temporarily stored on an e-mail server as opposed to traveling across a network. A federal district court then threw out the indictment.
Ongoing Court Battles
Next, the U.S. Justice Department unsuccessfully appealed the ruling. The Justice Department continued its efforts and appealed to all seven appeals court judges last year. The Justice Department finally reigned victorious yesterday when the full appeals court ruled 5-2 that Councilman can be tried under wiretap law.
"The term 'electronic communication' includes transient electronic storage that is intrinsic to the communication process," the court said, "and hence that interception of an e-mail message in such storage is an offense under the Wiretap Act."
Councilman still has the right to appeal to the U.S. Supreme Court.
Government and Business Cooperate
Jupiter Research analyst Joe Wilcox told TechNewsWorld that this case marks a trend toward increased cooperation between business and government in efforts to protect consumers' privacy and safety on the Internet.
He points to Microsoft's settlement with "Spam King" Scott Richter earlier this week. As part of its effort to fight spam, Microsoft filed a lawsuit against Richter and his company in December 2003, when he was ranked one of the top spammers in the world. Microsoft worked with the New York Attorney General to stop this notorious spammer.
Wilcox said on one hand this case highlights business to business problem that lead to an unfair competitive advantage, but the overarching drama is much larger.
"There is increasing industry concern, whether legitimate or not, that consumers will be less likely to make purchases or conduct financial transactions online if there is any risk to their privacy or safety," Wilcox said. "Businesses will continue to work with the government to help ensure privacy and safety online."