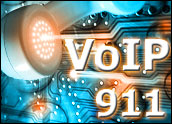 Analysts say they expect the Federal Communications Commission will require all VoIP providers doing business in the U.S. to offer basic e911 service to their customers. They also say they expect the FCC to force major telcos to make their e911 infrastructure access networks available to VoIP providers.
The rulings are anticipated at the FCC's Open Meeting on Thursday. VoIP providers would be required to implement e911 service nationwide within 120 days. With publication of the order likely to come within weeks, the compliance deadline would fall in late October or early November.
Heightening Barrier to Entry
Research consultancy Atlantic-ACM predicts the retail VoIP market will grow at a compound annual rate of 64 percent through 2009. The technology will penetrate 12.1 million households by the end of the decade, according to Jupiter Research. That represents about 10 percent of U.S. households.
Those figures have caused a rush by newcomers hoping to cash in on a multi-million dollar market. But Aaron Nutt, ATLANTIC-ACM analyst covering the VoIP sector, told TechNewsWorld that the e911 ruling will slow that rush.
"The e911 decision raises some entry barriers to the proliferation of 'bring your own broadband' providers," Nutt said. "Some of the less sophisticated players that have been cropping up have more technical requirements. They need more sophistication to get into the game."
Third-Party Providers Respond to Call
Third-party providers are ready and waiting to offer their e911 services. Nutt said a number of software application vendors are prepared to fill the void. Telcos, too, are ready to negotiate with pure play VoIP providers for use of their infrastructure.
"The question is whether there are any additional surcharges and how the service will be carried between the incumbents and the VoIP pure players," Nutt said. "This is an interesting dynamic because incumbents and larger VoIP players like Vonage will have to work together to come up with a viable solution."
Ahead of the Curve
Pac-West Telecomm, for one, announced the availability of e911 services to VoIP and other service providers yesterday through its VoiceSource offering.
"In anticipation of widespread industry demand for VoIP, as well as FCC regulations requiring e911 capabilities for VoIP providers, we have extended our traditional 911 capabilities to enable e911 for VoIP providers as part of our VoiceSource offering," said Hank Carabelli, the company's president and CEO. "E911 and other traditional voice capabilities are key requirements in making VoIP a viable alternative to traditional PSTN (public switched telephone network) phone service."