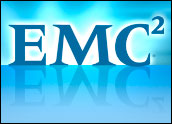 EMC on Thursday introduced a new suite of storage and virtualization solutions for the enterprise. EMC hopes its new product lineup will help customers bring more of their information together for improved economics and management.
The new solutions are designed to extend the benefits of information lifecycle management (ILM) to more applications and information by leveraging Internet Protocol networks.
EMC claims it now offers the world's largest and most flexible high-end storage array, along with new file system software and new network attached storage (NAS) virtualization capabilities. Could this be marketing hype, or is it another EMC victory?
"On the sheer number of drives, the new DMX-3, with 2,400 drives, scales significantly higher than solutions from either IBM's DS8300 (with 640 drives) or Hitachi's TagmaStor (1062 drives)," Charles King, Principal Analyst for Pund-IT, told TechNewsWorld. "So far as I know, EMC is the first storage vendorto deliver an array that scales to over one full petabyte (1,024 terabytes) of raw capacity."
An Enormous Challenge
Managing the growth and complexity of an IT infrastructure has become an enormous challenge for customers. In 2005, data stored on disk arrays grew more than 70 percent, according to EMC data.
"That growth, combined with changing requirements in areas like governance and protection, has resulted in increased costs and information management challenges," King explained.
The sheer volume of information being generated day in and day out, which increasingly requires companies to approach data storage in an orderly manner or be completely overwhelmed, is the first challenge.
Intelligent Data Management
The second issue, King added, is managing that data intelligently, especially making sure that company information is stored on tiers of storage (read: types of drives) that reflect its value.
"You don't want seldom accessed billing statements sitting on high performance — and high cost — Fiber Channel drives," King said, noting that not too long ago, storage administrators manually moved data to its correct tier as its business value devolved.
Many large enterprises are accumulating data so quickly that administrators simply can't keep up with demand, according to King. That's where automated ILM tools come into play.
More Information Storage
To that end, EMC introduced entry-level and high-end configurations of its flagship EMC Symmetrix DMX-3 storage array, including those featuring Fiber Channel 500 GB disk drives that enable a single high-end storage array to scale beyond a petabyte of capacity.
This new feature enables more information from more applications to be stored on a single array and allows multiple tiers of storage to be managed on the Symmetrix DMX-3 platform, according to EMC.
EMC also introduced a Multi-Path File System for iSCSI file system software. It is designed to deliver substantial performance and cost improvements for customers in data intensive environments that process large files over IP networks, including grid computing, rich media, software development andothers.
Major Enhancements
EMC made major enhancements to the EMC Rainfinity Global File Virtualization platform, including Global Namespace Management. This provides a unified view of all files and file systems located on heterogeneous file servers on an IP network. The Rainfinity platform now also includes Synchronous IP Replication to provide improved protection capabilities.
EMC also made enhancements to the EMC Centera content addressed storage system, including Event-based Retention and Litigation Hold software features designed to give customers more security, flexibility and control over their archived information for regulatory and legal purposes.
"IP Storage is red hot. IT pros are realizing that the same benefits they get from their Fiber Channel SANs can and should be extended throughout the entire enterprise — and that means IP," said Steve Duplessie, Founder and Senior Analyst, Enterprise Strategy Group.
EMC has realized this and will provide customers a seamless way to integrate and centralize storage access, whether file or block, to all reaches of the enterprise, Duplessie said, noting that IP is the great enabler to attach to every server, not just the big ones.