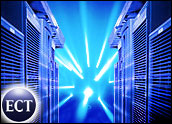 In a move to compete with rival Veritas Software in the long-term archive storage market, EMC Corporation today announced it has expanded the Centera family of content addressed storage systems. The company said the new line attempts to address the growing fixed content archiving needs of mid-size enterprises.
The lower-capacity and lower-cost EMC Centera four-node configuration is designed to deliver the same advanced content and self management features available in all Centera configurations. The company said the capacity is scaled to the needs of mid-size businesses.
"Mid-size enterprises and partners have been asking EMC for a solution to cost-effectively archive fixed content such as e-mail and important business records in a way that meets their requirements," said Tom Heiser, senior vice president and general manager of EMC's Centera Division. "With this new EMC Centera configuration we can now make managing and archiving fixed content more affordable and simpler than ever."
Making Storage Simple
The company said the Centera four-node configuration is made possible through enhancements in its operating environment software.
EMC said the enhancement, along with the new capability to rack-mount the four-node configuration of industry-standard racks, makes the new line ideally suited for mid-size organizations that need to reduce costs and share space with existing server/storage solutions without using additional floor space.
EMC is touting its Making Storage Simple approach in the low-cost Centera announcement, along with its set of Express Solutions that are pretested and sized to meet the needs of this market. The company said the new Centera configuration will be integrated into these solutions.
Anne MacFarland, director of Infrastructure Architectures and Solutions at The Clipper Group, told TechNewsWorld that enterprises are learning that fixed content should not be part of a daily back up.
"Even if you can do incrementals, why not move data where it is more findable and better protected," she said. "Content addressable storage offers a way to offload fixed data into an equally accessible but separate array, which can improve the back up of their active data. It also allows for more efficient analysis of real-time data."
The EMC Equation
MacFarland said with new entry-level Centera configuration, EMC has addressed the needs of enterprises with modest data capacity requirements for a fixed content solution on the same platform and with the same functionality that many large companies in the world have used to solve their fixed content and regulatory concerns.
"EMC has been moving into addressing mid-market far more actively than it did a few years ago," she said. "Customers have an unwillingness to pay for products that are too large and frankly very expensive. EMC is coming in with a box more to the market. The new Centera is smaller and therefore lower cost."