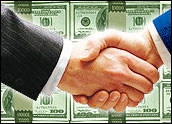 In a bid to expand its GSM network capacity and coverage, Ericsson announced today it has signed a US$150 million contract with OAO Mobile TeleSystems (MTS), Russia's largest mobile operator.
The wireless equipment maker will deliver switching and radio equipment, supporting both GSM and GPRS, that will allow MTS to offer advanced and innovative services. The network will also be given EDGE capability, laying a solid foundation for future-proof network migration to 3G.
Ericsson has frame agreements with MTS for the supply of infrastructure, as well as for the services. The deliveries have started in all six regions and will be finalized by the end of 2005.
"Dynamic expansion of a top-quality mobile network and the fast introduction of new and attractive services are the main goals for our customer," says Bill Crocker, vice president of Ericsson Eastern Europe and Central Asia. "Our latest solutions will also allow MTS to grow its subscriber base."
Opportunity and Challenges
Burton Group senior analyst Mike Disabato told TechNewsWorld that Ericsson's $150 million investment is buying the company a presence in a huge country that spans 11 time zones. Russia is home to more than 143 million people, most of which are between the ages of 15-64, according to the CIA World Fact Book.
"Russia is a huge country that lacks some of the infrastructure it needs and mobile is one of the big ones," Disabato said. "I am surprised the investment is only $150 million. I anticipate if Ericsson does a good job the company will have a leg up on getting more leverage there."
But analysts said there are also plenty of challenges in Russia, namely with the government. "It's not easy to build a democracy," Disabato said. "There's a lot of cultural inertia and governmental changes to overcome."
Focusing on Asia
Ericsson, a Swedish company, is making heavy investments in Asia. Late last week, Ericsson announced it would establish a new R&D center in Nanjing, China, to focus on the development of TD-SCDMA product offerings. The center is expected to have 50 research staff.
Ericsson has established R&D centers in several major Chinese cities, including Beijing, Guangzhou, Shanghai, Nanjing, Qingdao and Chengdu.
Ericsson last week also announced a new strategic alliance with Zhongxing Telecom Equipment Corporation to collaborate in the TD-SCDMA area.
"China has an enormous population," Disabato said. "China has decided they don't want to mess with GSM or GRPS. They are going straight to UMTS. That investment is going to pay off."