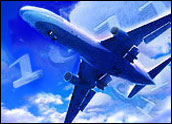 In the wake of a foiled terrorism plot targeting aircraft departing from Great Britain, European researchers are pushing hard to create a non-hijackable plane. The security program could combat on-board threats by 2008.
The non-hijackable plane would feature technology designed to serve as a last barrier to attacks on planes in flight. The vessel would include computer systems designed to spot suspicious passenger behavior and a collision avoidance system that would adjust the plane's trajectory to prevent it from being diverted from its course.
The researchers are also attempting to develop an on-board computer that could act as an automatic pilot, directing the plane to the nearest airport even in the midst of a hijack. That feature, though, could be 15 years off.
SAFEE and Sound
The four-year, 35.8 million euro (US$49 million) non-hijackable plane project is called SAFEE, or Security on Aircraft in the Future European Environment. It was launched in 2004 and includes partners such as Airbus, BAE Systems and Siemens.
Initiatives include an on-board threat detection system based on processing multiple sensor information, a threat assessment and response management system and decision support tool, flight reconfiguration and a study of an automatic guidance system to control the aircraft.
SAFEE initiatives also include a data protection system securing all the data exchanges in and out of the aircraft, security evaluation systems, legal and regulatory issues threat assessment, operational concept development, validation approach, economic analysis and training.
The SAFEE system could be commercially available as soon as 2010, but some security experts are skeptical.
An Unsinkable Ship
"The Titanic was billed as the ship that was unsinkable. Now we know that there is no ship in this world that is unsinkable, no plane that is non-hijackable and no marriage that is undivorceable," Dr. Britt Marshall, a former law enforcement officer and INTERPOL agent, told TechNewsWorld.
"If a hijacker gets on board the plane, he can merely kick open a door and everybody inside would be dead in a matter of minutes," he continued.
Marshall is faithful to the recommendation he made to the government back in 1978: Move airports away from major metropolitan areas.
Washington National, Midway and LaGuardia airports, he said, are in the heart of their cities and there is no time to recover if hijackers decide to crash a plane into the Pentagon, White House or Empire State Building."Hijackers are ideologues. If someone wants to do something bad, they will find a way to do it," Marshall said. "So I don't believe there will be a non-hijackable plane, but this is a good project nonetheless."