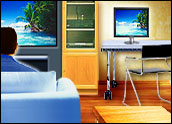 More viewers are using their TV screens to watch downloaded or streamed video content instead of the tinier screens on their laptops, tablets or smartphones, according to new research from NPD Group.
The report found that over the past year, consumers using their TV as the primary screen when watching downloaded or streaming digital content jumped from 33 to 45 percent.
That media content includes YouTube videos, streamed TV shows from Hulu, or movies they bought from iTunes or other services. If consumers purchased those shows via a PC or mobile device, NPD found that more are connecting it to a home device such as a TV or gaming console, or using their smart TV services to watch content from streaming services such as Netflix or Hulu Plus directly from the TV.
Netflix Watch Instantly is the prime example of web-to-TV video, said NPD, noting that 40 percent of viewers watching online video on TV used connected TVs to stream video from Netflix. Another 12 percent watched content from Hulu Plus.
As the number of users turning to their TV screens rose, NPD found consumers using a PC as their primary screen for viewing streamed video content dropped, down to 31 percent from 48 percent a year ago.
NPD did not respond to our request for further detail on the story.
Moving Mainstream
The growth in TV screens for online video is a sign that online video is becoming a verified media option in many homes in the U.S., said NPD. Before, streamed or downloaded videos were often only utilized by younger tech-savvy consumers or early adopters willing to navigate a more complex system of connecting devices, said Alfred Poor, author of the HDTV Almanac and analyst with GigaOM Pro.
Now, however, with the help of smart TVs and easy-to-use streaming services, a new mainstream crowd is able to view TV or video content in the comfort of their living room.
"Now, a more mainstream audience has discovered the benefits of streaming video, especially Netflix," Poor told TechNewsWorld. "They want to watch it on their main television screen, but don't have the interest or technology chops to hook up a computer to make it happen. So the new Smart TVs and the under-$100 network media players mean that they can get Netflix and Hulu Plus and YouTube and other streaming sources right on their television with no fuss, and no tangle of complicated cables."
It's to be expected that consumers would want to turn back towards the TV screen, said Peter Koeppel, founder and president of Koeppel Direct.
"TV screens provide the best viewing experience and therefore its only natural that consumers would migrate back to their TVs to view video from the web as technology allows them to do so," he told TechNewsWorld.
Capitalizing On The Trend
In the constantly evolving media market, TV makers, online video services and digital content providers are scrambling to keep up with consumer trends and figure out how best to capitalize on those trends — which can be a struggle in the saturated space, said Koeppel.
"As Hulu, YouTube, Google, Apple, Amazon and Microsoft begin to develop their own video content, viewers will consume more online video content on their TVs and the lines between Web and TV content and viewing will blur. Marketers will need to adapt to these new viewing patterns in order to reach consumers in this rapidly changing media environment.
Consumers turning towards TVs is good for TV makers, especially ones that are already leading in innovation with smart TVs. But that doesn't mean they can quit while they're ahead. As marketers and subscription content providers attempt to expand their video offerings, smart TVs also have room for improvement, said Poor, most notably with search and discovery abilities that would allow a consumer to manage their favorite content across all platforms, not just within separate services such as Netflix and Hulu.
While TV makers and content providers might bristle at the thought of working together, the two could benefit from a working relationship that would help the overall industry grow, said Poor.
"It is in the TV makers' best interest to help drive the development and implementation of such systems, but I don't know that they have the resources to make it happen," he said. "There probably needs to be some sort of ongoing revenue stream to support such a system, and it probably needs to be universal — much like the classic printed TV Guide — and not a proprietary system tied to just one television brand."