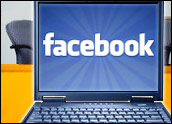 Facebook has given its Messages feature a redesign, endowing it with a two-panel layout that makes the social network's private communication platform look more like an e-mail client than its previous single-column interface.
The revamped Facebook Messages has two sides. On the left, users will see a small panel that shows the latest contents of the message inbox. Users can click on any of those messages and see it pop up to the larger panel on the right, much like a typical e-mail client design.
Now, users won't have to click through to another page to view a message, and there is a consistent search box on the left-hand panel. That way, users can search for past messages while having another message open, whereas previously only one message could be open at once.
In addition to the upgraded search features, the new format also includes new emoticons, easier ways to attach files and photos, and keyboard shortcuts for more efficient navigation to compose, reply or search within messages.
Like most Facebook updates, it's rolling out slowly to all users over a matter of days. Facebook did not respond to our request for further details on the redesign.
Cramping on Gmail's Style?
The redesign could be part of a larger move by Facebook to get users go its services more often to send direct messages, thus spending more time on the site. As the company's newly public stock continues to wallow well below its debut value, Facebook is continuously looking at ways to keep revenue and user numbers high. Any such initiative needs to include a push for the network's mobile crowd, said B. Thomas Varghese, CEO and founder of eBizUniverse.
"Now that Facebook is a public company, they are under pressure to increase revenues and they're going to have to come up with several ways to monetize their user base," Varghese told TechNewsWorld. "Their biggest challenge though is monetizing the over 50 percent of users accessing Facebook from mobile devices."
Earlier this summer the site switched users' default e-mail address to their "@facebook.com" address. Facebook took some heat for the change — which it did without asking permission — from users who preferred to publicize a different email addresses.
The social network may hope that a sleeker Messages format could get users to turn away from competing Gmail or Yahoo mail accounts and spend more time messaging friends and coworkers via Facebook.
No Big Converts
But while the new look might be smoother and more efficient, it might not be enough to convince users of longstanding dedicated platforms to make a total switch, said Brian Carter, an Internet marketing expert.
"I don't think it's going to change people's habits," he told TechNewsWorld. "The most difficult thing these days is that everyone has different preferred communication channels. Some prefer Facebook messages, some prefer e-mail and some prefer text messages."
Those preferences are unlikely to change just because Facebook Messages looks cleaned up, said Carter, and it especially won't be a draw for professionals that don't use the site at all, or just on a limited basis. For people without a Facebook app on their smartphone or who don't check the site during work hours, it can't be completely relied upon for a method of communication, he said.
"There are many people who don't check Facebook every single day, so Facebook messages are still not a real viable replacement for e-mail," Carter said.