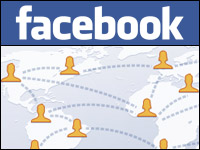 Facebook has rolled out a new round of security features intended to better educate new users about what information they can keep private and how.
Now, when a new user signs up for the site, they will have the option to go on an online privacy tour to get information on the site's privacy policies. It will include descriptions of how third-party applications and games access user data and suggestions on how to keep certain information as private as possible.
The tour also features information on tagging people or things in photos, including the notice that if someone tags you, you will be notified, and vice versa.
The updated features also allow Facebook users to select an audience for personal data including a user's school or employer. Existing users will be able to adjust these settings by choosing "update info" on their profile pages, and new users will receive a prompt to choose their settings during the sign-up process. The update started rolling out Friday.
Facebook did not respond to our request for further details.
Been Here Before
This is not Facebook's first round of privacy adjustments. The site has taken heat from consumer advocacy groups and privacy proponents before for allowing outsiders to access too much personal information and for not educating consumers on how their data could be used.
Facebook took the recommendations of the Irish Data Protection Commissioner's Office into consideration when developing the new privacy settings. Since its European operations are in Dublin, the office is the regulatory oversight committee for all users outside of the U.S. and Canada.
Last year, the commissioner of the agency looked into Facebook's privacy policies and recommended that it better educate users on how their information could be used.
It urged Facebook to reconsider some of the facial recognition software it uses to tag photos and warned that it should not rely on third-party developers to keep user information secure and private.
Facebook also settled a case with the U.S. Federal Trade Commission where the company agreed to change the way it keeps user information private.
This Time's the Charm?
This latest round of improvements is only a step in the right direction, especially since it is focusing on the site's newest joiners, said Renay San Miguel, chief content officer for Splash Media.
"Newbies to Facebook can be some of the biggest security risks regarding what information they might disclose to the social network, and how receptive some can be to social engineering tricks," he told TechNewsWorld. "Facebook is always going to have its privacy critics, and it does have a checkered history when it comes to this vital topic, but any attempts to give users more help with this should be appreciated and noted."
This latest round of improvements is a step in the right direction, said Internet marketing expert Brian Carter. It may have taken the company a while to get to where their privacy policies are good enough to please consumers, but it is certainly getting there, he pointed out.
"It's good to educate users how Facebook privacy features work," he told TechNewsWord. "I think there is a generational subset Facebook will always have trouble with — some of those who grew up without computers find many interface features confusing. Many of the digital natives don't understand why someone wouldn't understand the features already."
That doesn't mean the tension surrounding Facebook and its privacy settings is over, Carter noted, but for now the company seems to be making privacy a priority. What's more, in an age when computer use is becoming more of a part of daily activities, it is crucial that the consumer take some of the responsibility in keeping their information private.
"In my opinion, the privacy issues were already dealt with previously," he observed. "A website a billion people's private information will always cause some worry for some people. What if hackers expose my private data, and so on. I think that for any Facebook privacy concerns, the ball was already in the user's court."