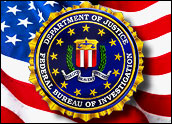 The U.S. Federal Bureau of Investigation is urging Internet companies to provide back doors that facilitate online surveillance, according to a Cnet report.
The bureau reportedly aims to increase the amount of data they can collect through online channels. [*Correction – May 7, 2012] Because of a shift in popular communication methods – from phones to online correspondence via social networks and chat features — it's more difficult to gather information on Americans suspected of illegal activity, the FBI claims.
A proposed revision to the law would change that. The bureau's counsel's office drafted a proposal, according to the report, that would require major Web companies to rewrite their code to allow their products to be wiretap-friendly. This could potentially apply to social networking sites such as Facebook and Twitter, any provider of instant messaging services such as Microsoft's Skype and Xbox Live, and services such as Apple's FaceTime.
The law would fall under the Communications Assistance for Law Enforcement Act (CALEA), a piece of legislation from 1994 that requires telecommunications providers to produce wiretap-friendly systems. In 2004, the FCC extended those provisions to Internet service providers, but Web companies still don't have to comply.
The FBI did not respond to our requests for comment.
'Going Dark'
The FBI has reportedly asserted that a change in the way people communicate has lessened the bureau's wiretapping ability, a problem it refers to as "going dark."
That stance was countered, though, by Gregory Nojeim, senior counsel and director of the Project on Freedom, Security and Technology for the Center for Democracy and Technology, told TechNewsWorld.
"Electronic surveillance is at record levels," he said. "For the FBI to say that it is going dark is simply inconsistent with the facts that show far from going dark, the FBI is listening in on more communications of more people than ever in the past. That doesn't sound like going dark, that sounds like an awful lot of white."
It's an especially bold move by the FBI, he said, since other proposed legislation is actually looking at cutting back on the power that the FBI or other government agencies would have to keep an eye on Web communication.
"Depending on the wording of the proposal, it would be ironic," he said. "Because at the same time Congress is pushing for legislation to make Internet communications more secure, the FBI would be asking Congress to make them less secure by building in backdoors to facilitate surveillance."
Big Burden of Proof for FBI
That public concern for increased online security could make it difficult for the FBI to continue its push for greater surveillance power. The FBI may have to show that a site like Facebook doesn't cooperate when presented with existing law enforcement means such as a warrant.
"The FBI is going to need to prove that it is somehow missing out on stuff that it can't get by current cooperation methods," Stephen Wu, partner at Silicon Valley law firm Cooke Kobrick & Wu, told TechNewsWorld. "If they're saying the tools they have today are inadequate, they're going to have to show why."
Influential Web companies such as Apple, Microsoft, Google, Yahoo and Facebook are also unlikely to give a thumbs up to the FBI on this proposal, since many of their services include social networking or instant messaging features. It might have been an easier argument a decade ago, said Marc Roth, attorney at Manatt, Phelps & Phillips, but now there is a greater chance of opposition from civil liberties groups.
"Unlike the Patriot Act, which was enacted shortly after 9/11, unless the FBI can show current immediate concern for harm, it will be a difficult initiative to push through," said Roth.
The unintended consequences of such a proposal are also going to be tough for the FBI to defend, said Roth, since attempting to monitor online surveillance casts a much broader net than targeting phone communication.
"Allowing access to social media channels could be more broad sweeping and violate privacy rights of citizens, as such efforts may involve searching key words or tracking behavioral activity, which are not directed to targeted individuals. It may result in a virtual fishing expedition," he said.
---
*ECT News Network editor's note – May 7, 2012:
The original version of this article stated that the FBI's effort had the support of the White House and other government representatives. In fact, the White House might be reluctant to support the effort, according to the Cnet report we referenced.