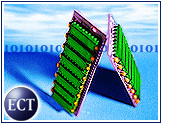 The U.S. federal government is moving forward with civil — and possibly criminal — cases against major makers of dynamic random access memory (DRAM) chips.
The cases are being investigated on both coasts.
The Federal Trade Commission (FTC) this week disclosed in court documents released in Washington D.C., that it has information that Micron Technology and others, in tandem, allegedly planned to increase prices charged to computer makers for DRAM.
An e-mail submitted into evidence in a civil case by the FTC, written on November 26, 2001, by an executive at Micron, referred to competitors in the chip-making industry and an alleged, proposed pending price increase. The e-mail stated, "the consensus is that if Micron makes the move, all of them will do the same and make it stick."
Put Resources Together
The documents come from an antitrust case filed against Rambus, which was recently dismissed by an administrative law judge in Washington but which has sparked other probes.
"As I have mentioned many times before, Intel does not make DRAMs, we do. And if all of us put our resources together, we do not have to go on this undesirable path — the path of control and domination by Intel," said another e-mail, produced as evidence in the Rambus case. That e-mail was written in the late 1990s by an executive at Hynix Semiconductor, the South Korean chipmaker formerly known as Hyundai Electronics Industries.
Other federal attorneys are presenting their case to a federal grand jury in San Francisco, seeking possible criminal price-fixing charges against companies in the computer chip business.
A plea agreement was reached last month in that investigation with former Micron sales manager Alfred Censulio. Censulio agreed to cooperate with prosecutors in exchange for the government dropping charges of obstruction of justice against him, alleging that he had tampered with handwritten notes he compiled during sales meetings with other Micron managers. It is alleged by the government that the sales managers discussed the prices of DRAM chips during these sales meetings, as well as competitors' product prices.
The federal government began its grand-jury investigation of the chip industry about 18 months ago, after a dramatic increase in DRAM prices ended a two-year decline in memory chip prices.
Cartel-Like Conduct
Comments made at a trade conference by Michael Dell, CEO of computer maker Dell, accusing DRAM makers of "cartel-like" conduct fueled the probe.
The investigation is focusing on the period stretching from the fall of 2001 to the summer of 2002, according to business press reports.
Lawyers told TechNewsWorld that there are a number of statutes under which allegations of price fixing can be brought by prosecutors.
"There are a number of federal and state laws that govern the way companies price their products," Ray Hartwell, an attorney with the Washington, D.C., office of Hunton & Williams, LLP, told TechNewsWorld. "Federal and state antitrust statutes make it unlawful for competitors to agree on what they'll charge, or to coordinate their bids or quotes when competing with one another."
Engaging in Price Discriminations
Another attorney, Richard Donovan, a partner in Kelley Drye, a major law firm located in New York City, told TechNewsWorld that a federal law, the Robinson-Patman Act, prohibits companies from engaging in price discrimination if that will "harm competition in the market."
Price discrimination occurs when a manufacturer sells the same products to different customers at widely different prices.
Private plaintiffs have filed several civil cases in the U.S. District Court in San Francisco, also alleging price fixing against the chipmakers.
The administrative law judge who was handling the Rambus case, Judge Stephen McGuire, in court documents cited another e-mail that alleged chipmakers had "sold their soul to the devil" in the price-fixing matter.