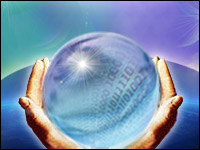 A wearable tech device that could make it easier for dogs to communicate with their handlers is in development at the Georgia Institute of Technology.
FIDO, or Facilitating Interactions for Dogs with Occupations, could have far-reaching practical applications. It could improve communications with guide dogs, as well as with search and rescue dogs, and it could give military dogs better capabilities to do their jobs safely and efficiently in dangerous situations, according to the Georgia Tech team.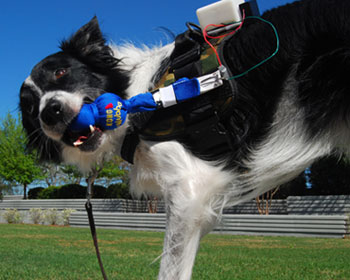 FIDO was born from conversations between Melody Jackson, associate professor and director of the Center for BioInterface Research at the Georgia Institute of Technology, and Thad Starner, the technical lead for Google Glass.
Jackson, who had been raising and training assistance dogs for years, often discussed her experiences with Starner, who had been working on wearable tech initiatives for more than a decade.
One day, the idea of linking their research clicked.
"We finally made the connection that we could have wearable tech for assistance dogs," Jackson told TechNewsWorld. "That blossomed into other types of applications for all kinds of areas — like military, bomb-sniffing, etc. We found so many utility avenues that we could go with for FIDO, and the more we started thinking, the more applications we found."
Jackson, Starner and research assistant Clint Zeagler began work on FIDO. The team built a sensor and audioprocessor that could be worn on an assistance dog's collar or vest. So far, they have tried out four different types of sensors the dogs can activate — by biting, tugging or positioning their mouth nearby. A handler can then hear that command through an earpiece, or see it through a connected display.
A Work in Progress
The researchers are experimenting with different kinds of sensors and determining which ones would be best for different situations. Having a variety of options could help broaden communications between dogs and handlers. For instance, a bomb-sniffing dog might be able to convey not only that it detected a bomb — but also what type of bomb it might be. Similarly, a guide dog could better alert an owner about an unexpected hurdle — like a patch of wet cement on a sidewalk, for example.
The team is working on equipping the device's audio processor to relay silent signals from the handler to the animal, which would make it easier for guide dogs to be in places like movie theaters where there is an expectation of silence. It could also allow communications between handlers and dogs in military settings, avoiding vocal commands that might give away a soldier's location to a sniper, for instance.
The technology and training process is simple enough that dogs who have already had basic assistance dog training can learn it in 15 minutes, said Jackson.
Bringing FIDO to Market
FIDO could find success in a tech market that is putting more focus on helping the "voiceless" have a voice, said Ross Rubin, principal analyst at Reticle Research.
"This device would be at the intersection of two related emerging markets," he told TechNewsWorld. "There is the wearable technology market and the … Internet of Things, where previously products that had no way of communicating their status now have a way to alert you to changes.
"The proliferation of inexpensive sensors, improvements in battery life, and lower-cost radios have made it so that even things like door locks and lightbulbs can be controlled via smartphones and can, in a way, communicate," Rubin observed.
The timing is right for FIDO, said Gerry Purdy, principal analyst at MobileTrax and GigaOM Pro.
"There has been an explosion of interest in wearable technology, because now it's possible to do it in a cost-effective manner," he told TechNewsWorld.
Some efforts at smart connected devices have been mocked for being pointless, Jackson acknowledged, but the FIDO team is hoping that its practical applications will awaken skeptics' interest.
"There is hesitation with any new technology," she pointed out. "Twenty years ago, it was hard to imagine everyone would be carrying around a phone with them. But when you make something that is practical, that is aesthetically pleasing, and means something to a lot of people — they're going to get used to it pretty quickly."