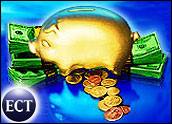 In what appears to be clear evidence that the digital revolution is ready for takeoff, results from a commercial mobile TV pilot in Helsinki, Finland, reveal consumers are willing to pay for services.
Specifically, 41 percent of pilot participants said they would be willing to purchase mobile TV services, according to the study, and half thought a fixed monthly fee of 10 euros was a reasonable price to pay. Over half (58 percent) said that they believed broadcast mobile TV services would be popular.
Willing to Pay
Nokia, Digita, Elisa, MTV, Channel Four Finland (Nelonen), TeliaSonera Finland and YLE jointly conducted the pilot in Finland between March and June 2005 with 500 users accessing mobile TV using the Nokia 7710 smartphone and DVB-H technology.
Phil Leigh, senior analyst with Inside Digital Media, told TechNewsWorld that he is surprised by the high percentage of pilot participants who said they would pay for mobile TV.
"We are going to see mobile TV deployed, but for the mass market it's not around the corner," said Leigh, noting that the screen sizes on mobile devices are still the largest barrier to adoption. "It's going to continue to be early adopters."
Content Still King
According to the pilot results, participants not only wanted to watch familiar program offerings, but would also welcome mobile TV content that is suitable for short and occasional viewing.
Familiar programs available through national Finnish television channels proved to be the most popular, followed by sports and news channels, like CNN, BBC World and Euronews.
In general, mobile TV users spent approximately 20 minutes a day watching mobile TV, although more active users watched between 30 to 40 minutes per session. Participants also watched mobile TV at different times than traditional TV peak hours.
"Mobile TV might be a way to catch up on the news, sporting events and time sensitive broadcasts that you have to absorb in real time, like the latest pictures from New Orleans and Mississippi," Leigh said. "Sporting events are another type of broadcast where people want to know the results immediately."
Pricing Models Explained
Overall, users preferred a fixed pricing model although many were also interested in a pay per view model. Leigh said carriers will probably establish a fixed monthly fee because that is the business model to which telephone companies are accustomed.
The pilot results also reveal the key requirements from consumers, including easy and intuitive service usability, good technical functionality and reliability, content that is also suitable for short period viewing, and mobile phone functions that are not compromised by the TV application.
"The Helsinki pilot reinforces our belief that mobile broadcast TV is a significant opportunity," said Richard Sharp, vice president of Rich Media for Nokia. "The message for the industry is clear: for mobile TV services to succeed we need relevant and compelling content, easy-to-use technology and reasonable and simple pricing plans. With these elements in place, consumer demand for mobile TV will follow."