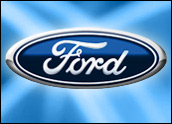 Ford is jumping on the Bluetooth bandwagon, and it is betting on Microsoft to help it gain momentum. The companies have reached a deal to put the software giant's technology into some Ford cars, according to a Wall Street Journal report.
Microsoft's Sync, which includes hands-free Bluetooth wireless and an in-vehicle operating system, will become an option for the entire line of Ford vehicles in 2008, the WSJ said. The Ford Focus and Five Hundred sedans will be the first two vehicles to offer the system.
Like other Bluetooth systems, Sync aims to let drivers communicate on their mobile phones hands-free. Sync would also enable other wireless information transfers in the vehicle, such as e-mail and music downloads, the paper revealed.
Mainstreaming Bluetooth
Bluetooth in autos is nothing new. Acura, BMW, Lexus, Lincoln and Jeep are among the manufacturers that already equip vehicles with built-in Bluetooth. Chrysler was the first in North America to offer the technology. Ford is late to the wireless party.
Although Bluetooth is no longer revolutionary, its uses are still evolving, said Burton Group Senior Wireless Analyst Mike Disabato.
"Bluetooth hit maturity in the early part of this year, and now it's pervasive," he told TechNewsWorld.
"Next, we'll see iPods with Bluetooth headphones and home theaters that use ultra-wideband technologies to get rid of that tangle of spaghetti," Disabato said, referring to the many electronic equipment cords running into television ports.
Driving in the Fast Lane
In the meantime, Bluetooth adoption in the automobile sector is likely to continue gaining momentum. Bluetooth will become a feature in a third of new vehicles in 2012, increasing from just 3 percent in 2005, Strategy Analytics predicted.
The research firm pointed to five key factors that have led to a surge in automotive Bluetooth applications over the past 18 months: growing consumer awareness of Bluetooth; rapid adoption of Bluetooth on cellular phones; strong automotive consumer demand for hands-free solutions; increasing availability of Bluetooth solutions in the original equipment and aftermarket; and legislative measures.
"Automotive pricing, promotion, and product positioning of Bluetooth versus other in-vehicle features will be critical to how take rates develop over the next two years," said Clare Hughes, Strategy Analytics Automotive Practice analyst. "As we have already seen with portable navigation, poor competitiveness from car makers and automotive system suppliers will result in aftermarket vendors taking a greater share of the growing consumer demand for Bluetooth."
Betting on Ultra-Wideband
Bluetooth is not the only wireless technology to make headway, as Disabato mentioned. The wireless communication scenario is witnessing a surge in new generation technologies such as ultra-wideband (UWB).
UWB will find its place because it can transmit vast amounts of data over short distances using only minimal power. That's a critical characteristic with mobile devices running on battery power or having limited access to power supply.
"For instance, UWB has the ability to transfer data in the region of 480 Mbps and is soon likely to surge up to beyond 1 Gbps or more," said Frost & Sullivan Research Analyst Venkat Malleypula. "Furthermore, this high speed interconnectivity is not restricted to wireless environments but is possible over power lines and coaxial media as well."
In short, regardless of the technology consumers adopt for various applications in the home, in the car, in the office or on the streets — the future looks wireless.