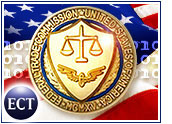 An appeals brief filed by lawyers for the Federal Trade Commission argues that a legal decision earlier this year by an administrative law judge favoring Rambus was incorrect, and that the chip products maker may gain as much as US$3 billion in illicit royalties as a result of its allegedly fraudulent business practices.
"The force of the deceptively captured JEDEC standards, not Rambus's ability to triumph in the open marketplace, today allows Rambus to command the monopoly power it unquestionably enjoys; the power to reap from $1 billion to $3 billion in royalties, ultimately from consumers," the FTC wrote in its appeal brief. "This decision is wrong in its premises, wrong in its analysis, and wrong in its outcome."
The brief against the Los Altos, California-based company was made public last week by FTC lawyers.
Earlier this year, FTC Chief Administrative Law Judge Stephen McGuire issued a ruling that Rambus "was not liable" for failing to disclose during discussions with the Joint Electron Device Engineering Council Solid State Technology Association that it received patents for technology that became part of a new industry standard for memory technology.
The full commission now must decide whether to hear this appeal, which alleges that Rambus illegally created a monopoly "through exclusionary means" in obtaining patents for SDRAM and DDR SDRAM, the most commonly used forms of memory chips for personal computers.
Controversy Continues
The charge is not without controversy, as Rambus denies any wrongdoing. The company has said it disclosed the patented technology to "a number of industry companies," including memory makers Micron Technology and Hitachi, even before the JEDEC standards-setting discussions.
The company also has said the disclosure policies of JEDEC were poorly defined and did not state specifically what Rambus was required to disclose to the standards committee.
The judge, earlier this year, agreed. In his 334-page decision, Judge McGuire found the rules for the standards-setting group were vague, and he cited a number of cases in which chip makers appeared to be working together to stop Rambus' RDRAM memory from making gains in the industry.
The FTC is an independent federal agency created by Congress to deal with claims of unfair competition.
A federal appeals court, in a separate Rambus case against Infineon Technologies, also has agreed with Rambus' position. The FTC and other SDRAM memory makers say the company misled JEDEC, once again by failing to disclose its patents.
Long History of Problems
The history of this case stretches back almost a decade. In the 1990s, Rambus tried to launch a new memory standard with the backing of Intel, called RDRAM, or Rambus DRAM.
But, FTC lawyers say, when Rambus realized vendors would retaliate against its plans to enforce its patents with legal action, executives authorized what the FTC called "Shred Day," in which thousands of documents were destroyed in 1998.
Rambus claims this is not true.
Facing Legal Problems
The company, however, continues to face other legal problems.
Yesterday, Rambus said the retrial of Rambus patent claims against Infineon AG, a German chip maker, has been reset from June 10, 2004. The new date is expected to be in the fall of 2004 and will be set before the end of May 2004.
"The date change was at the initiative of the trial court judge, who, among other things, cited the number of pretrial issues that remain to be resolved, and the possible need for time for Rambus to appeal certain of those rulings prior to trial," Rambus said in a statement to the media, released yesterday.