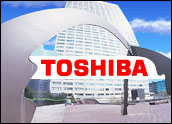 Toshiba on Friday announced that it has developed two prototype direct methanol fuel cell (DMFC) units and begun tests to validate their operation with MP3 players.
A fuel cell is an electronic device similar to a battery. It produces electricity from an external fuel supply as opposed to the limited internal energy storage capacity of a battery.
Hydrogen and oxygen are typical reactants used in fuel cells. The fuel cell's only byproduct is water vapor. Fuel cells have been proposed to power everything from automobiles to lap top computers.
Frost & Sullivan expects to see a US$126 million market for micro fuel cells worldwide by 2010, with the bulk of that growth occurring in 2007 and 2008.
Practical Fuel Cells?
Each of Toshiba's fuel cell units integrates the DMFC the company announced in June 2004. The new fuel cell units have been applied to a flash-memory-based digital audio player and an HDD-based digital audio player. Toshiba said the prototype brings its practical use a major step closer.
The 100 mW unit, similar in shape and size to a pack of gum at a compact W23mm x L75mm x D10mm, can power the flash-based player for approximately 35 hours on a single 3.5 mL charge of highly concentrated methanol, the fuel that drives the electricity-producing chemical reaction in the fuel cell. The 300 mW unit is W60mm x L75mm x D10mm and delivers enough power to keep an HDD-based audio player running for approximately 60 hours on a single 10 mL charge.
The Race for Power
Of course, Toshiba is not the first to proclaim micro fuel cell readiness. Japanese electronics and handset giants Fujitsu and NTT DoCoMo proudly proclaimed joint development of a high-capacity micro fuel cell with recharger for mobile handsets in July.
Industry analysts, however, observed that fuel cells have long been predicted, but have never made it to market. They also pointed to improvements in today's batteries, which do not typically present energy problems, even with heavy mobile phone usage.
Inside Digital Media analyst Phil Leigh told TechNewsWorld that Toshiba seems to be pushing the power supply envelope in hopes that a fuel cell could add value to MP3 players.
"The Apple iPod has a battery that you can't replace. You can recharge it, but you can't replace it. So that's a hassle," Leigh said. "Once the battery goes bad, you have to throw away the iPod and buy a new one. With the fuel cell, you could refill it with fuel and it would be good forever. But I would think this technology would be more important for laptops, based on the heavy power consumption."