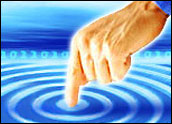 Fusion Garage threw a new tablet into the mix Tuesday when it announced the debut of the Grid-10, a tablet computer that features a new twist on the Android operating system, a dramatic gesture-based interface and predictive intelligence.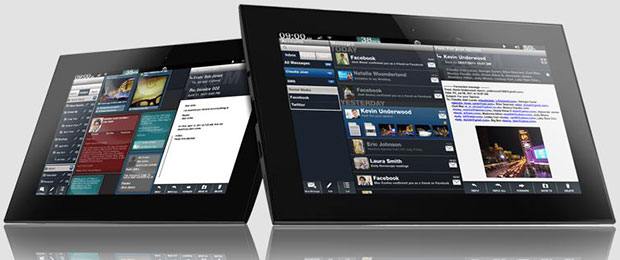 Fusion Garage's Grid 10 tablet
It's not Fusion Garage's first foray into the tablet market. In 2009, CEO Chandra Rathakrishnan launched the Joojoo tablet in hopes of revolutionizing the market. Critics generally called it a flop and sales were dismal.
Now, the company is coming back swinging with the Grid-10, after operating under the "parody company" name of "TabCo." The Grid-10 will be available in September, and the newest features the 10-inch tablet brings to the table are its interface and the predictive intelligence abilities.
Newest Features
The Grid UI is gesture-based, so the only buttons are the on and off switch. App icons are arranged in clusters personalized by the users, and with one touch the user can open a wheel arrangement that brings up an array of tasks. By spinning a finger around the wheel, the user can command the Grid-10 to edit or open a new window, for example.
The tablet also features predictive intelligence in a number of different forms. It becomes personalized, remembering certain searches or popular apps so those come up first for users. It's also useful for other search purposes. For instance, if a user can't remember the exact name of a restaurant where they're attending a party later, they could do a partial search and the tablet would scan a calendar or e-mail to provide the information.
"I think some of the things that are here are going to perhaps make the use of a tablet more consumer-friendly, like the predictive intelligence that could infer things and be able to type ahead, or understand patterns and things you use more frequently," Jeff Orr, senior practice director of mobile devices at ABI Research, told TechNewsWorld.
The tablet runs on a version of the Android platform. As the company describes it, it's taken the core of the OS and created a new, more personalized and user-friendly experience on top of it.
Fusion Garage also unveiled a smartphone, the Grid-4, although it is not for sale yet, presumably to gauge success after the launch of the Grid-10 tablet. If the two were used together, the experience could be streamlined, meaning a user could be working on an app or program on the tablet, then pick up exactly where they left off on the smartphone, and vice versa.
Can It Compare?
When a new tablet gets thrown into the bunch, comparisons to the far and away leader in tablet sales and buzz — Apple's iPad — are all but inevitable.
One thing it shares with the tablet king is pricing — a 16GB WiFi version will go for US$499 and a 3G version for $599, identical to the iPad's pricing. Some of the biggest companies to launch tablets recently, such as HP, have attempted to compete at a large scale with Apple but haven't been able to make much of a dent when sold at the same price.
"The catch is, there needs to be something more, some sort of distinction," said Orr.
Even if rivals come to the table with exceptional hardware and lower pricing, Apple has so much streamlining across products that it's difficult for competitors to dabble in unexplored territory like the tablet market.
"The real challenge is the cliche within the industry, that I think is glaringly true, is that it's an iPad market. Other products are just not faring well, and there's a range of reasons why. One of the fundamental things Apple does is, it has an ecosystem that they've been investing in for over 10 years. You can price your product significantly less and it still won't put a dent in where the iPad is going," Ben Bajarin, director of consumer technology at Creative Strategies, told TechNewsWorld.
As with any new product from a small company, the key will be getting it into hands of consumers.
"One of the challenges they're going to face is, they're a new company with no distribution, no brand name and no user base," said Orr. Fusion Garage, he said, will need to quickly get the tablet into peoples hands through e-commerce and retail and give consumers the chance compare it side-by-side with an iPad.
Still, until a given tablet goes through multiple product cycles and becomes more of a mainstream consumer piece, competitors of all shapes and sizes may have a tough time living up to the iPad.
"They're competing in one small way of a very large pie that Apple owns a lot more into than they do. Fusion Garage has no consumer awareness whatsoever, and even large companies like HP haven't been able to make a dent, so that puts a lot of skepticism in my mind," said Bajarin.