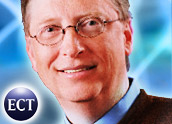 In a move to compete with rival Google, Microsoft is planning to launch MSN Virtual Earth, a service designed to take local search to new depths, according to the software giant.
Company chairman Bill Gates offered 3D conference attendees a sneak peak of his vision for Virtual Earth in Carlsbad, Calif. yesterday. Microsoft will debut the new service this summer, complete with 45-degree-angle views of buildings and neighborhoods and street maps to help users find local businesses.
"MSN Virtual Earth sets forth a new search frontier that extends traditional local searching into a deeply immersive search experience, where consumers see what it's like to be in a location and explore what they can do there," said Stephen Lawler, general manager of the MapPoint business unit at Microsoft. "The unique aerial imagery from Pictometry enables Microsoft to deliver a one-of-a-kind immersive local search experience for our customers."
Directions, Please
Greg Sterling, an analyst at the Kelsey Group, told TechNewsWorld that MSN Virtual Earth is attempting to roll up what Google has done with Keyhole, what Yahoo has done with layered mapping, and what A9 has done with photos into one advertising-supported venue.
The question is, do consumers really want that level of mapping? Sterling thinks so.
"Maps used to be documents you consulted after the fact to find out how you should have gone from where you were to where you wanted to go," he said. "Now mapping is turning into something very different. An enormous range of possibilities are opening up with what Google, Yahoo and Microsoft are doing."
Indeed, a full 87 percent of Internet users look for maps or driving directions online, according to the Pew Internet & American Life Project. They choose the online mode over offline mode in every measure taken.
"Anyone who has used an application for finding driving directions online knows how superior that experience can be compared to the clumsy and time-consuming experience of finding and fumbling with maps," said Pew senior research fellow Deborah Fallows.
Opening Revenue Streams
One of those "possibilities" Sterling referred to is advertising revenue. At a recent Kelsey Group mapping panel conference that included Yahoo, Google and Mapquest, Sterling said these players expressed concern over cluttering or over monetizing maps. But analysts expect a shift in thinking.
"Mapping sites will figure out the right balance between pure information and advertising over the next 12 months," Sterling said. "That is when you are going to see these maps get monetized. When someone is looking for a particular type of business in their area it creates an advertising opportunity that doesn't conflict with the mission of deliveringinformation."
What About Mapquest?
Mapquest doesn't offer consumers satellite maps, photos and some of the other features that its competitors are implementing. Although Mapquest is still the leading map site today, analysts said the online map site may have to rethink it's strategy if it begins to lose market share to its mega competitors.
"Consumers have responded very favorably to Google's interface and people like Yahoo's real-time traffic and the capacity to do map-based searches," Sterling said. "Mapquest may have to add satellite mapping out of necessity. It makes mapping much more dynamic than it has been, at least on the Internet."