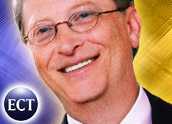 Bill Gates is not used to finishing in second place but the Microsoft chairman did just that this week, losing a virtual soccer match on penalty kicks to star Mexican player Rafael Marquez 2-1.
Commemorating Microsoft's 20th anniversary in Mexico, Gates dropped the match to the international soccer champ after letting in the deciding goal, as hundreds of Microsoft employees and other invited guests cheered.
Scoring off the Pitch
Although Gates was on the losing end of the game, he claimed a victory of sorts, signing accords with Mexico City and federal officials aimed at using technology to increase efficiency in business and government, as well as to improve healthcare and education.
"This is just the latest in a series of visits to developing countries for Gates over the past ten years to actively promote technology and healthcare," Laura DiDio, an analyst with the Yankee Group, told TechNewsWorld.
"Technology can be a great leveler, providing a way out of poverty for the populace while increasing the gross national products of nations," DiDio noted.
Technology Spurt
"Certainly, there's a lot of things going on in Mexico that are absolutely world-class in information technology," Gates said.
Gates touted the benefits of the personal computer during a press conference after the match, saying that every child should have an equal opportunity to use technology and connect to the Internet.
Joined by Mexican President Felipe Calderon at the presidential residence in Los Pinos, Gates also promoted the new Windows Vista and Microsoft Office 2007 software. In addition, he spoke with government officials about how to help small businesses in Mexico become more competitive by increasing their currently low technology use.
"Promoting technology can help remedy issues at all levels of business in emerging nations," said DiDio.
Pushing Technology
Calderon awarded the Aztec Eagle to Gates for "prominent services to the nation," referring to the Bill & Melinda Gates Foundation.
Last year, the foundation donated US$30 million to Mexico for computers and software. Matched by local governments, the funds helped buy 15,000 computers and equip more than 2,700 libraries across the country.
Microsoft has been involved in establishing a digitalized "school of the future" in the western state of Sonora, as well as a hospital in Jalisco that has digitalized all of its records.
After losing the soccer match to Marquez, Gates showed he was a good sport and gave the Barcelona defender a signed Xbox video game console. In return, the soccer star gave Gates an autographed pro-soccer T-shirt.
Gates was also scheduled to meet privately with billionaire and Mexican telecom magnate Carlos Slim to discuss ways of increasing online advertising and broadband penetration in Mexico.