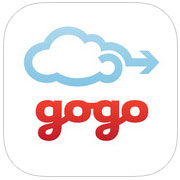 Gogo on Wednesday announced plans to roll out faster and more reliable in-flight Internet access to passengers, allowing them to stream digital entertainment while cruising miles above Earth.
The new Ground to Orbit service will use satellites for reception and Gogo's ground-based cellular network for the return link.
The end result will be a more robust and reliable network that will reach peak speeds of 60 Mbps, according to the company.
That's a 20-fold increase from the 3 Mbps Gogo managed upon its launch in 2008. The company has since upped its speed to 9.8 Mbps, but Gogo users are still unable to stream video and may experience slowdowns depending on how many passengers aboard an aircraft are logging on at the same time.
Virgin America will be the first airline to launch the new service, which is expected to debut during the second half of 2014.
More WiFi, More Possibilities
Even just a decade ago, the thought of being able to email from above the clouds seemed like a distant dream, said industry analyst Jeff Kagan. Now that in-flight WiFi capability has become commonplace, consumer demand for faster, more reliable and affordable service is rising.
"A Gogo-type service is needed today in our Internet-centric world," Kagan told TechNewsWorld.
Airlines are recognizing the growing demand. JetBlue recently announced FAA approval of its plan to offer satellite-based in-flight connectivity by the end of the year. It partnered with ViaSat to build out the service, which will allow users to stream entertainment faster than any other WiFi option currently in the air, according to JetBlue.
United Airlines offers WiFi service on some of its flights and plans to add it to more.
That's all the more reason that Gogo needs to improve its service, said Kagan.
"Speeds are slower than we are used to," he noted. "Consistency of service is another problem. Costs have risen and are now roughly (US)$15 to $20 per day. This is still acceptable if you can use this single connection on all your devices — however, they do not always let you do that. Paying for multiple connections is too expensive for what you get."
Enlarging the Crowd
Faster and more reliable connections could grow Gogo's user base, said Joel Espelien, senior analyst at TDG Research.
Gogo and other in-flight wireless services largely target business travelers who need to get some work done on the plane, he noted. With more wireless capabilities, though, consumers might latch onto the entertainment possibilities.
The desire for in-flight video currently is satisfied primarily by people side-loading it onto their personal devices at home before heading to the airport, Espelien told TechNewsWorld, "but a blazing fast Internet connection might entice some Netflix customers to start using their subscriptions en route."
Providing that blazing fast connection is just one of many steps that Gogo needs to take if it wants to stay ahead in an increasingly competitive market, said Kagan. "This is still a new service with lots of room for improvement."