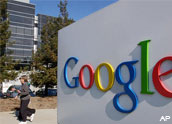 Google on Thursday announced a new search product designed to make it easier to find U.S. government information and keep up to date on government news.
Dubbed Google U.S. Government Search, the engine primarily caters to government employees in an effort to replicate its mainstream consumer success at the local, state and federal levels. The new engine is located at usgov.google.com.
Google is asking the provocative question, "Wouldn't it be great if search within your government organization was as easy as search on Google.com?" Then the search king promises "blazing fast, secure search" across government public Web sites and internal databases, satelitte imagery and business applications.
A Single Search Box
"With Google U.S. Government Search, millions of U.S. government employees, various contractor organizations, as well as the general public can easily search across content on official federal, state and local government sites from a single search box," Google said in its announcement.
Consumers are the secondary target of the new service, with a customizable interface that offers search to public documents and constantly updated content from government and commercial news sources, including the White House, Department of Defense, The Washington Post, and, of course, Google News.
Google U.S. Government Search allows people to configure the layout of the page and add content to the site from a searchable directory that includes information on government and general topics such as sports, business and technology. News from other Web sites can be added using RSS feeds.
Promises, Promises
Google is promising that its product will make government employees more productive, and give the public better access to government services. The U.S. Food and Drug Administratrion and the National Park Service are among those already using Google search solutions.
"The very fact that Google is able to offer this to government users bolsters the company's image for providing a secure environment for browsing and messaging," JupiterResearch Analyst Sapna Satagopan told TechNewsWorld. "Google is looking at a particular niche audience and I can see how it could get other industries thinking about similiar services."
The legal industry, for example, might find a customized Google search application helpful to wade through heaps of documents, Satagopan said. The medical industry could also find value in the ability to search across internal databases.
Google's G-Man
To expand Google's ability to serve federal government customers, Google also recently added Mike Bradshaw as head of federal sales. Bradshaw, who has more than 20 years experience selling technology to federal agencies, will be located in Google's office in Herndon, Va.
Bradshaw will focus on helping federal agencies benefit from Google enterprise products, such as the Google Search Appliance, Google Mini, Google Earth Enterprise and Google Maps for Enterprise.
"Google does compete in the enterprise search space," Satagopan noted. "Recently, it suggested it planned to provide deeper search solutions on an enterprise level. This government search is an aspect of that."