Google on Thursday unveiled the highly anticipated Nexus 5, its flagship smartphone running the new KitKat release of the Android operating system.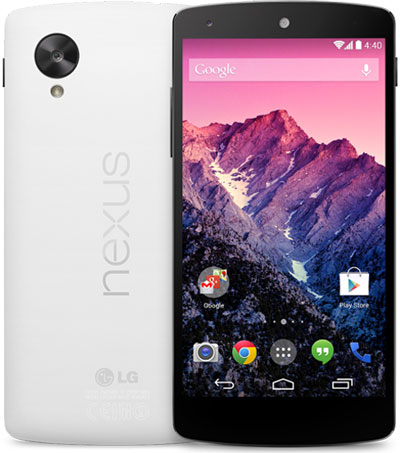 The Nexus 5, manufactured by LG, has a 5-inch 1080p display. At 4.59 oz., it is lighter and thinner than its Nexus predecessor. It's also faster — it runs on the speedy Snapdragon 800 processor.
It comes with an 8 MP rear camera and a 1.3 MP front-facing camera. It has an optical image stabilization feature, designed to help users take crisper photos even with a shaky hand.
The Nexus 5 is available in for AT&T, Sprint and T-Mobile customers. The 16-GB version is US$349 without a contract, and the 32-GB version goes for $399. It comes in black or white.
"The Nexus 5 continues the trend towards big, bold devices designed to capture the moments of our lives," John Feland, CEO and founder of Argus Insights, told TechNewsWorld.
"It is also a chance for Google to apologize for the poor imaging performance on the Moto X," he noted. "Combined with new auto image processing on KitKat and Google+, Google is shifting the conversation with consumers from just storage and backup to remixing your content to tell new stories."
Big Plans for KitKat
The Nexus 5 is powered by KitKat, the latest version of the Android operating system.
KitKat makes it easier for users to search using voice, allowing for more complex requests in a natural conversational style. For instance, a user might say, "Text Mike," and the phone might ask "Which Mike?" It also makes it easier for users to search for misidentified voice terms, for instance, "Boston pitchers" instead of "Boston pictures."
KitKat is better equipped to predict what users might want to do. For instance, it might prompt someone who searches for a nearby lunch spot to make a reservation. Someone searching for a national park might be shown what time a park attraction begins.
SMS and Hangout messages are housed in the same place, making it easier for users to view chat, video call or text conversations to find the info they need.
One OS for All
KitKat promises better memory management, which "could help Google address the fragmentation problems that continue to plague Android, and it could also help Google extend its dominance in the booming market of lower-end smartphones." GigaOm Pro analyst Colin Gibbs told TechNewsWorld.
The first step in extending that dominance and snagging the next billion mobile OS users will be convincing vendors to get on board, noted Ben Bajarin, director and founder of Creative Strategies.
"There are some interesting new features but nothing major — and nothing that I'd say is the killer app for Android to get new users," he told TechNewsWorld. "The key question for KitKat will be how long it takes for Google's partners to roll it out to their devices."