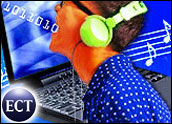 Could GoogleTunes be in the future for digital music fans? Will the company buy Napster or start its own service? Should Apple be concerned, or is the possibility of Google entering the space just another unsubstantiated rumor?
There are many questions today and fewer answers. Though Napster's shares spiked by as much as 50 percent on Tuesday in the wake of a report that said Google might buy the online music service, the stock declined again after Google denied it had interest in purchasing the company.
That settles one rumor, but there is yet another. According to the same story in the New York Post that originally reported the possible Napster relationship, Google has also been looking to develop its own music service.
Google did not return calls seeking comment.
Getting to the Bottom of It
While the truth has yet to be revealed, what we do know now is that Google introduced a music search feature that will return relevant information about artists, including links to sites where their music can be purchased, last December.
At that time, Google noted that the feature does not represent a move toward becoming a music retailer, but rather establishes it as a middle man, referring searchers to places where they can buy songs.
Google Search Quality Product Manager David Alpert said that the more information the company can make easily accessible with a simple search, the better. Google is working to refine the service to enable users to type in a song name or album name and get the same streamlined results.
Biting Into Apple
Google actually partnered with Apple's iTunes service, along with RealNetworks, Rhapsody, eMusic, Amazon.com and WalMart.com, on its music search initiative. The search giant's motive? It said it gets a lot of search traffic on music terms.
However, the Post report suggests another motive. The Post said Google wants to offer a monthly subscription service to its music store because it believes that is where the market is headed. Apple, by comparison, has captured about 80 percent of the market selling individual songs.
Would Google now turn on its new partner and launch a competitive music download service? Analysts said it is certainly possible.
"I'm sure Google will start a music service at some point. It's an obvious move, and I'm sure they could compete. I haven't seen them put anything out in terms of timing, however," search engine expert Danny Sullivan, managing editor of Search Engine Watch, told TechNewsWorld.
From Rumor to Reality
Google rumors abound, but not all of them are true. Google was in talks late last year with Time Warner's AOL unit. Many speculated that they were engaged in takeover discussions that would make Google an AOL property. Instead, Google invested US$1 billion for a 5 percent stake in AOL.
Still, analysts are putting more weight on this particular rumor.
"When has Google ever confirmed rumors in the past? They've denied nearly all of them, even those that have later happened," said Evan Roberts, director of advertising for Labitat, a Web 2.0 startup focused on niche market data mining.
"Its quite logical that Google would move on to music," he told TechNewsWorld. "Google already has pictures and videos. Sound is just another medium for their next iteration of advertising."