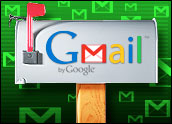 Google unveiled a new Gmail design to give users more organizational control over a cluttered in-box.
The revamped in-box is an option; users who like the approach can separate their email into four tabs: primary, promotions, social and updates.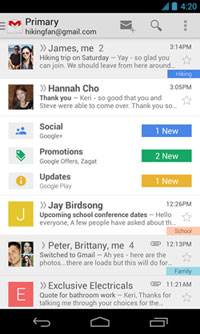 (click to enlarge)
Primary is for the mail from friends, families or colleagues that a user would want to read and perhaps save. Promotions include messages from daily deal sites like Groupon or notifications from stores about sales.
The social category includes the notifications Facebook and other social networks send when a friend posts a picture of the user, for instance.
The updates tab is for mail concerning receipts or bills.
The tabs are customizable, so users can pick and choose between those likely to get the most use in their in-box. However, it's not possible yet to create new tabs. Users can drag messages between categories or flag email from certain senders to always appear in designated tabs.
The refresh is optimized for mobile Gmail on the iOS or Android 4.0 and higher platforms. When a user opens the Gmail app on a tablet or smartphone, the primary tab appears, and from there it's easy to navigate to the other tabs.
The update will continue to roll out to Web-based Gmail over the next few weeks, and the Android and iOS apps will be available soon. Users who don't like the switch can stick with the classic in-box look.
Email Still King
Gmail has been one of Google's most successful services as it expanded past its core search business, and it's important that the company recognize it needs to keep that feature refreshed if it wants to maintain its email customers going forward, said tech analyst Jeff Kagan.
"Email is not going away," he told TechNewsWorld. "Too many people use it and count on it to communicate. It will adapt with new technology, but it is still a very important piece of the pie."
Google's refresh is a natural adaptation of the current technology, Kagan added. One redesign might not attract a fresh batch of Gmail users, but it will keep the service relevant in a changing market without alienating its longtime consumers.
"There are two goals," he observed. "One is to hang on to existing customers. Two is to win new customers. In a competitive playing field, companies need to stay hot. The best way to do that is to change and refresh. The best way this has worked in the past is to make it new — but keep it familiar so customers don't have to re-learn."
Those updates are especially crucial in a market that is leaning heavily toward mobile users, said Kagan. Google understands that especially with a service like email, consumers are demanding more efficient organization. People on the go don't want to be bothered with unimportant messages.
"The marketplace is changing," he noted. "Gmail was originally set up for the laptop or desktop. Today, with the move toward mobile phones and tablets, there is a need to refresh."
Good for Google
Google's Gmail refresh won't just be good for consumers looking to declutter their in-box, though, said Pim Bilderbeek, principal analyst at GigaOM Pro and founder of Bilderbeek Consulting.
Savvy Gmail users previously had the ability to sort emails into different folders and labels, so this update is more about how Google can advance both its advertising and email services, Bilderbeek suggested.
"There is nothing new for the Gmail user because it was already possible for people to label messages — but not many did that," he told TechNewsWorld. "The interesting thing about this is the choice of the four pre-installed message categories Google has made: primary, social, promotions and updates. This looks to me more like an attempt to further monetize Gmail messages through advertising than anything else."
The changes aren't dramatic enough to draw new Gmail users, Bilderbeek said, but it could help the tech giant promote its own social network, offers and updates under those labels.
"Don't think it will attract new users," he said, but "do think Google will make more money."