Google has added more detail to its map of North Korea this week, giving users a better glimpse into the infrastructure of the highly secretive country.
Much of the map is still relatively blank compared with Google's detailed maps of other countries. In some parts, though, the map shows information such as roads, schools, parks and waterways, especially near the capital and largest city, Pyongyang. The map also features shaded areas where prison camps, or gulags, are believed to be located.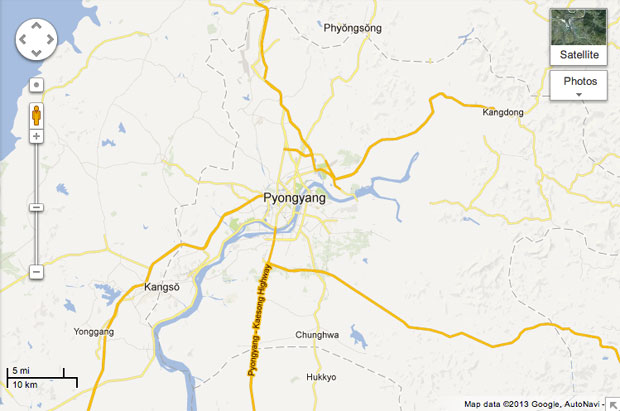 Google's Map of North Korea – After
The map was mostly put together by "citizen cartographers" using its Google Map Maker tool, the company said. The crowd-sourcing feature, first launched in 2008, allows users to add information such as roads, landmarks, bodies of water or buildings to existing Google Maps.
Map Maker is available in more than 200 countries, but is especially useful in places like North Korea where geospatial information isn't widely available. Google said efforts to boost the country's maps have been going on for a few years and were finally ready to debut this week.
Google's Map of North Korea – Before
Schmidt's Trip
The launch comes less than a month after Google executive chairman Eric Schmidt traveled to North Korea for a four-day trip arranged by former New Mexico governor Bill Richardson. While there, Schmidt and Richardson were part of a nine-person team that met with North Korean officials. Schmidt said he encouraged those leaders to consider allowing greater access to technology such as cell phones and the Internet to reverse the culture of isolation.
The unofficial trip was criticized by some public figures. U.S. Senator John McCain took to Twitter to refer to Schmidt and his traveling companions as "useful idiots," and former United Nations ambassador John Bolton said the team was being used by North Korean officials to boost their image within their homeland.
Google did not say if there was a connection between the release of the North Korean map and Schmidt's recent trip to the country. The timing is questionable, though, said Tom De Luca, professor of political science and director of the International Studies Program at Fordham University.
"I think it is very interesting that this was done right after Schmidt's visit there. It could hardly be a coincidence," De Luca told TechNewsWorld, "although it might be only that Google was waiting until he got back."
Google did not respond to our request for further details.
Power of Maps
Even if the information on Google's North Korean map is limited, any increased availability of geospatial knowledge can be beneficial in many ways, said Ming-Hsiang Tsou, professor in the geography department at San Diego State University.
"Governments need maps to plan the building of roads, highways, airports, sewage lines, etc.," he told TechNewsWorld. "Mapping is essential for building basic infrastructure of modern society."
Google is not the only company providing maps, but in recent years cartography has become one of the company's most lasting initiatives, said Emmanuel Stefanakis, assistant professor in geographic information systems and science at the University of New Brunswick.
"Since 2005, when Google Earth was released, people around the globe have been using maps as never before and have a different view of the Earth, the country and the neighborhood they live in," Stefanakis said. "It is amazing how this product has changed people's perception for the Earth in less than seven years."
Opening North Korea a Little at a Time
Venturing into North Korea — literally and digitally — fits into the company's overall goal of providing as much data as possible, even when information is limited, Stefanakis told TechNewsWorld.
"The demand from local communities for the privilege and right to get mapped adequately on Earth browsers is always present, even if authorities try to ban it. This is what sparked Google's interest in North Korea and other places, which sooner or later will be included in the new communication frameworks offered by Google and others."
Any kind of diplomatic or communications change isn't going to happen overnight.
"North Korea is the most secretive and repressive country on Earth," Fordham's De Luca pointed out. "Based on past behavior one wouldn't expect any cooperation with this project. Quite the opposite, one would expect retribution for any cooperation inside or outside of North Korea. If there is any cooperation, that would be a positive signal. North Korea is so secretive that no reaction might even be positive."
Still, mapping could be a baby step as part of a larger initiative. Google is hardly the first company to attempt to map the country. Some South Korean cartographers have published maps based on what they know from before the Korean War or from North Korean defectors. Other crowd-sourced initiatives, such as a map on Curtis Melvin's North Korean Economy Watch website, have also taken on the task.
With its widely established platform, though, Google's North Korean map could be the one that gets people to pay more attention, De Luca noted.
"The most likely outcome of all of this is to increase a little interest in North Korea and its culture and human rights record among Internet users," he said. "If there's anything other than condemnation from the North that might be worth noting, but that's also grasping at straws."