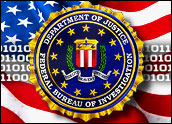 Google is reportedly challenging a government request for private information on its users, just weeks after it became the first major tech company to release information about the security probes it receives from the FBI.
The tech giant is mounting a court challenge against a National Security Letter (NSL), a highly secretive demand issued by the FBI that asks Google to provide private information on certain users. The challenge, first reported by Bloomberg, is rare.
The move comes a few weeks after U.S. District Judge Susan Illston — the same judge who was assigned Google's challenge — ruled that NSLs are unconstitutional.
Illston agreed with the Electronic Frontier Foundation on the recent case, which argued against NSLs that come with a gag order. EFF, which argued the case on behalf of an unnamed company, claimed that NSLs violate free speech and the separation of powers. Illston ordered that the government stop issuing them and stop enforcing the gag provision in cases where they've already been used. The judge gave the government 90 days to appeal the decision before it goes into effect.
Google did not respond to our request to comment for this story.
Taking On NSLs
Shortly before Judge Illston's ruling, Google was he first company to publicly release data about the NSLs it received from the FBI. Google's information, which it published in a blog post, was vague, stating only that it had received between 0 and 999 NSLs each year between 2009 and 2012.
Even though the range of NSLs Google provided was indeterminate, though, it was the first time a tech industry giant had published such information. In addition to providing the data, Google promised it was trying to find ways to provide more information about the letters. Its court challenge may be part of that effort.
It wasn't exactly a natural move for a company that has defended itself at Congressional hearings over how much information it can collect from users, said Marc Roth, partner in the advertising, marketing and media division of Manatt, Phelps & Phillips.
"Google may be doing this to show its users and the rest of the world that it intends to protect user information from government access, which may seem somewhat ironic given its own history of aggressive data collection and use practices," he told TechNewsWorld.
This time around it is finding itself on a different side of the fight, though, and it could stand to gain in the eyes of the consumer, said Susan Freiwald, professor of cyberlaw and information privacy at the University of San Francisco School of Law.
"It is quite significant that Google is challenging the NSL because it is part of a trend that Google has established to push back on what seem to be excessive government demands for private information, and for secrecy surrounding those demands," she told TechNewsWorld. "I think Google both cares about the civil liberties issues here and stands to benefit in the marketplace for taking a stand."
Going Google's Way?
With so few details about the case known, it's difficult to predict an outcome, Roth and Freiwald noted. If Google can win a ruling in its favor, though, other similar challenges might follow suit, said Freiwald.
"Because there have been so few challenges to National Security Letters, any successful challenge will set a precedent," she noted.
Google might already have an advantage considering Judge Illston has already ruled against NSLs, said Roth.
"The Google case is before the same judge that addressed this same issue about a month ago when the letters were successfully challenged by EFF on behalf of another letter recipient," he added. "That decision was a setback for the government, and given the same core facts here, and the same judge, there is a strong likelihood of success for Google."